Top 8 online leaflet maker review
1. Lucipress
Pricing: The pro version's charge is as low as 10 dollars per month.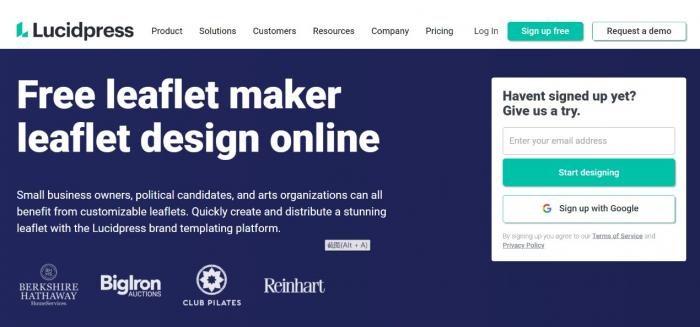 Using Lucipress, you are enabled to create creative and high-quality content of leaflet online even if you are not a professional designer. The intuitive interface makes it easy for everyone to put visualized leaflet design into realization. With the support of Lucipress, you can propagate your brand and business in a more efficient way. No matter you are an experienced marketing pro or just managing a start-up company, it will help you a lot create a leaflet online free.
Pros:
high-reputation
business utility
Cons:
2. Canva
Pricing: Free version is enough for individuals and small teams to create and download designs for any occasion.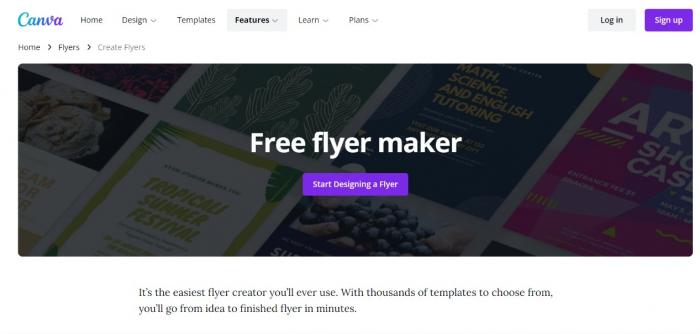 Whether you're creating a flyer for a lost pet, a gym opening or a fundraising campaign, Canva's easy-to-use flyer maker has your demands covered. Canva has an extensive range of templates has designs for all the needs you want—or, use your imagination to design from scratch. With an image library of over 2 million icons, illustrations and photos, plus hundreds of free fonts, it has got all the ingredients you need to get the look you want. Its simple drag-and-drop design tool was made with the non-designer in mind. Forget about complicated design software, or the cost of a professional designer: With Canva's flyer maker, you can bring your ideas to life.
Pros:
low charge or free
wide range of templates
friendly to the newbies
Cons:
Also read Best 10 Landing page design tips to fuel your inspiration.
3. Flipsnack
Pricing: The pricing fee costs $168.00 one year.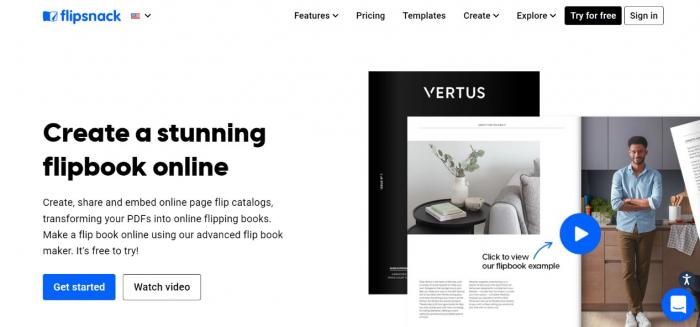 If you need to transform your PDF files into online flipping books, you can utilize Flipsnack's advanced tool to create a flipbook online. It's free to try! Flipsnack helps you take business branding to a higher level. The branding selections it provides not only help you obtain a popular brand image easy to recognize, but it also enables you to customize your corporate documents according to your brand identity. Popularize your business brand by branding maker and watch your brand rise to the top.
Pros:
stunning performance
Simple UI
collaboration supported
Mobile-friendly
Cons:
4. Adobe Creative Cloud Express
Pricing: It exists a free trial chance but still charges US$9.99 per month if you need pro version.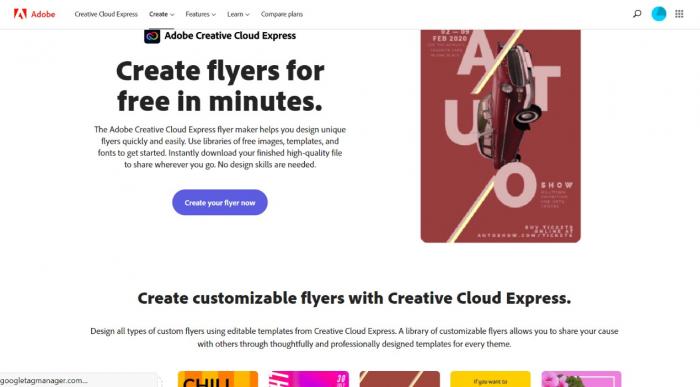 You can choose your favorite material from the templates library, and complete your leaflet online with the all-new Adobe Creative Cloud Express quickly and easily. It is allowed that you can take outstanding leaflet examples for reference. What's more, Adobe Creative Cloud Express is available both on the web and mobile. Even though you are not a professional designer, you can finish fiddly works like removing background, adding text, dragging stickers onto pictures, design a branding icon easy to recognize and so much more with the intuitive UI design of the platform. Just following the guidance on using video with a few clicks, you will achieve the ideal goal of obtaining high-quality effects on leaflet design.
Pros:
professionally designed templates
speed up workflow
Cons:
Relatively higher service fee
5. PosterMyWall
Pricing: Premium users are provided with unlimited high-definition image download and unlimited video download. The charge of premium service is $9.95 US dollars per month.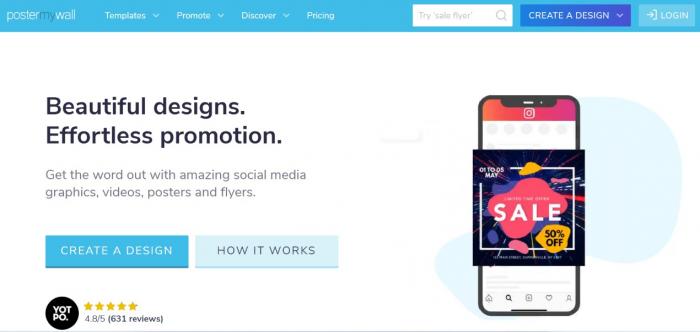 Same as other leaflet makers, it allows you to select the suitable templates for your theme and easily navigate the tools you need to create leaflet with its intuitive interface. After you finish it, you can post your output on Facebook, Instagram and Twitter instantly with one click or schedule your posts for later. PosterMyWall makes designing event posters, other print materials quick and stress-free for those who struggling with leaflect design. The best part of PosterMyWall is that new templates are popping up each week to keep your designs both fresh and relevant.
Pros:
essay-to-use
short learning curves
Co-relating with social media
Cons:
little shortage of creativity
6. Visme
Pricing: For personal, the cost is $12.25 US dollars per month billed yearly. It is enough for you to gain access to the features needed for individual use. Besides, you can choose a teamwork plan for your business.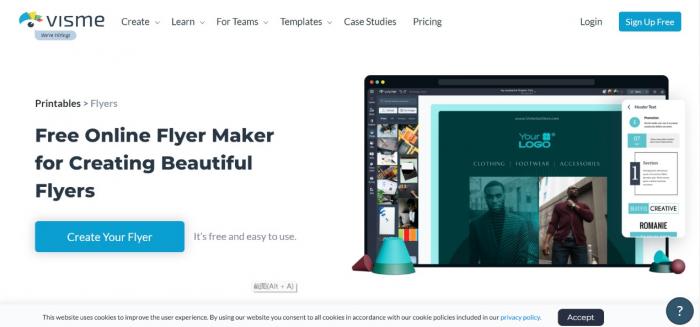 Visme allow you to choose all kinds of templates you need from online templates library whose content range from organizations, fashion, real estate to nonprofits and more. You can use the flyer creator to personalize your trademark, change background images to colors and fonts. By the way, you can use your own photos or choose from millions of free stock images, which help you brand your own custom flyers for a cohesive look and feel.
Pros:
Simple UI
Cases for reference
Privacy & Security
Cons:
7. Venngage
Pricing: For individuals who are looking forward to popularizing their professional designs, they only need to pay $16 US dollars per month (yearly payments).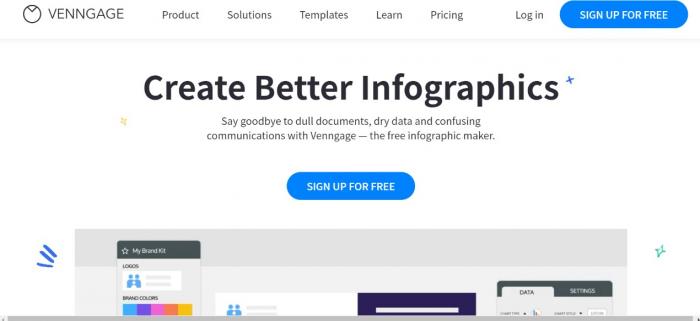 A leaflet is a format of an infographic to some extent. Infographics enable us to make complicated, significant or even technical information easy to digest. Venngage is here ready for us to make better infographics. It is a time-saving way to use Venngage for leaflet design and edition for it provides a large amount of leaflet examples. After uploading your image you can add icons and text boxes freely, as well as change words bond and color. Besides, you can also enjoy the excitement in your leaflet online by adding extra icons or stickers if you like.
Pros:
free to try
enough themes for choosing
business-friendly
Cons:
mainly focus on brochure making
8. Creatopy
Pricing: Per editor needs to pay $17 US dollars per month for premium service, which is billed yearly.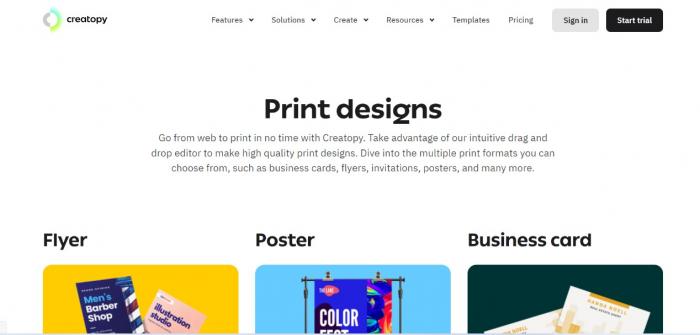 Creatopy helps teams that are eager to propagate their business brand to customize, automate and scale up their ad production and delivery. It will highly speed up production and project management. It could save time exchanging and providing assets to third-party providers and help marketers present and gather feedback from clients.
Pros:
clean layout
centralized user management
secure access with SSO
Cons:
FAQs
1. How can I make a leaflet for free?
Open any website of the online leaflet makers mention ed above. Login and start your designing.
Choose the ideal template from thousands of leaflet examples.
Customize your design by dragging and dropping text box, changing background color by BGremover.
Unleash your creative ideas to make your work perfect.
Print your leaflet.
2. Is leaflet and brochure the same thing?
A leaflet is a single sheet of paper that covers important information requiring propaganda. The key difference between brochure and leaflet is their purpose; brochures are only used to promote companies, their products and services whereas leaflets can also be used to inform and spread some alerting knowledge to the whole public. Don't forget to try VanceAI to remove background from image .
Also read: Top 8 Websites to Download High Quality Transparent Emoji
Do you find this post helpful?
Yes
No