Top 5 Platforms to Hire Freelance Photo Editor
Price: Vary by freelancers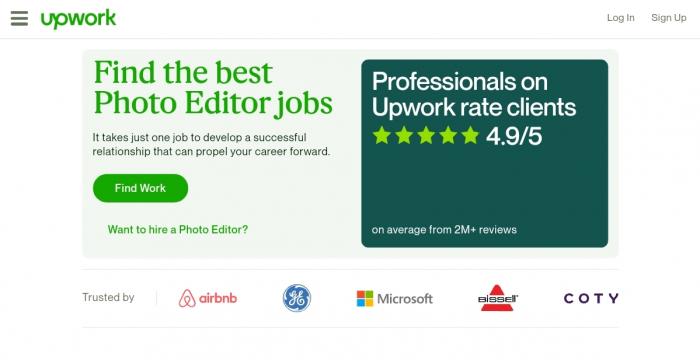 As a freelance platform, Upwork has gained quite a remarkable reputation for both short-term and especially long-term projects. It makes everything just easier for everyone with cutting-edge technologies. It is home to several professional freelance photo editors, thereby guaranteeing you one of the best quality out there, considering your budget.
Features:
Review proposal from multiple freelancers
Browse reviews and feedbacks
Cutting-edge reporting and invoicing
Price: Vary by freelancers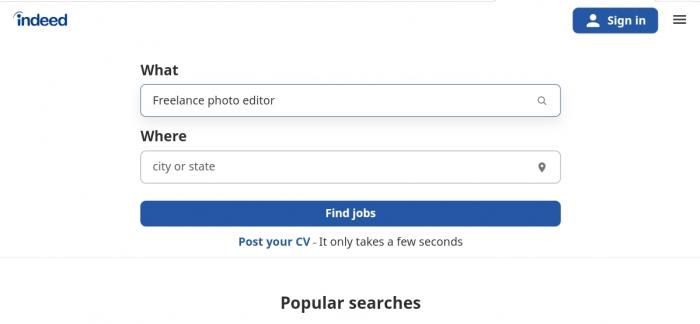 Indeed is arguably the largest job platform globally, recording well over 250 million visitors monthly. Every ten seconds, Indeed adds new job listings, so you can always get the best photo editor for hire on a safe and secure platform
Features:
A wide variety of jobs
Compare reviews and feedbacks
Allows you to conduct extensive research before making a choice
Price: Vary by freelancers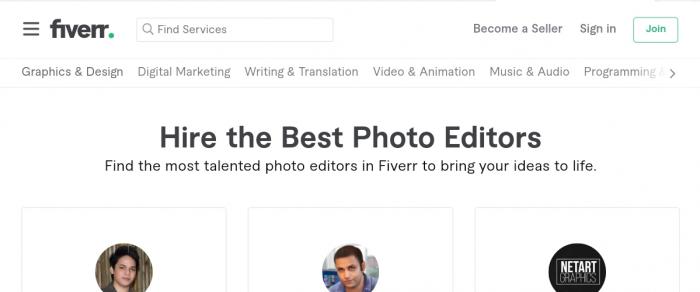 Fiverr is extremely easy to use and open to almost anyone, regardless of your location. You can hire a photo editor for as low as $5 Besides, it offers quite a robust communication network, allowing you to hold a proper conversion with the freelance photo editor, demand custom pricing, outline your specific needs in clear terms, etc. before awarding the gig.
Features:
Budget-friendly rates
Impeccable customer support
No complicated contractual terms
Price: Vary by freelancers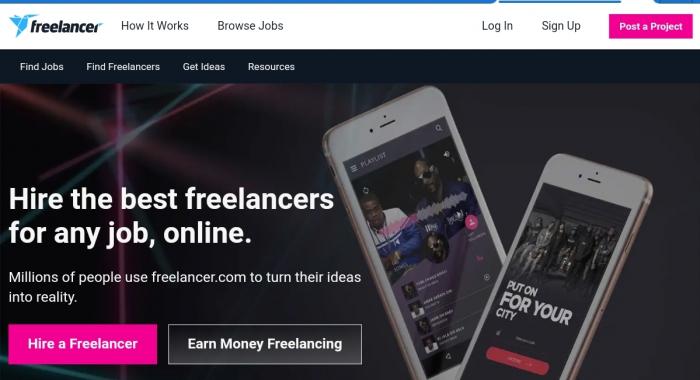 Freelancer is often the go-to for big businesses. If you are looking forward to quite a voluminous editing task, a freelance photo editor on this platform is your best bet. One of the best things shout Freelancer is in its price and payment flexibility, allowing you to let pay or project or per hour
Features:
Covers a lot of skills, including freelance photo editor
Creatives, talents, and hirers can onboard seamlessly
Attention to security and immense customer support
Price: Vary by freelancers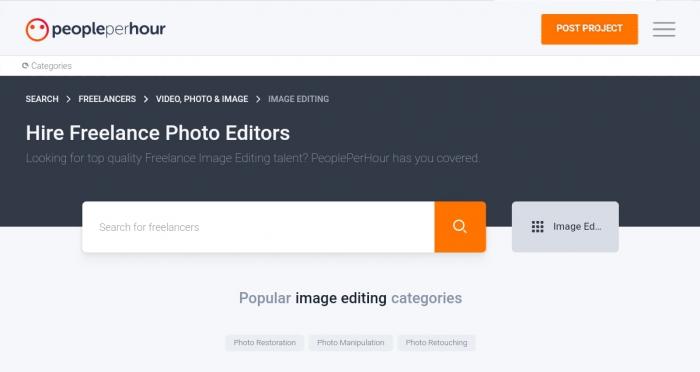 This platform also features a massive talent pool, where you can always hire a photo editor as well as other professionals. It's been around for quite some time, and as such, its reputation speaks for itself. PeoplePerHour allows you to post a job where freelance photo editors can bid, so you can select the best photo editor for hire.
Features:
Excellent turnaround time
Only the best talent can onboard due to the strict registration framework
No risk trial available
Conclusion
Photo editing is one integral aspect of our daily lives. We take selfies every day, so hiring a freelance photo editor for each edit doesn't sound like a prudent decision. With the rapid evolution of technology, AI has arguably eliminated the need to hire a freelance photo editor. With VanceAI products, you can carry out almost everything a freelance photo editor does, like remove background online with even more accuracy and privacy assured.
FAQ
How much do editors charge per photo?
Prices of individual freelance photo editors may vary based on various factors, such as experience, project duration, work volume, among others. For a platform like Fiverr, you can get this service for as low as $5, and this could always change depending on the factors mentioned earlier.
If you want to know more information about background removal tools, please read: 10 Best Tools to Make Background Transparent Free 2022.