Method # 1: How to create PNG with transparent background manually
You might have heard about Kapwing before as it is a very famous and widely used online tool for video editing, photo editing, and creating transparent PNG. Kapwing is loaded with amazing editing features that are easy to locate and operate. The main page of the website is simple and comprehensive that anyone can understand. Let's go through a step-by-step guide that can help you how to create PNG with transparent background through Kapwing.
Open your browser and visit the Kapwing website. The link is sourced here but if you want to search on your own it is better to write Kapwing PNG maker in your search bar. You will see a front-page as shown in the picture. Here are two options for importing the image. You can either upload image from your computer or paste the image URL.
After uploading your desired image, you will see a new interface of the website. A page loaded with different editing options will appear on your screen having your uploaded image in the center. Here, you can see a lot of options but they are highly organized and easy to locate. From the top right corner click the erase option.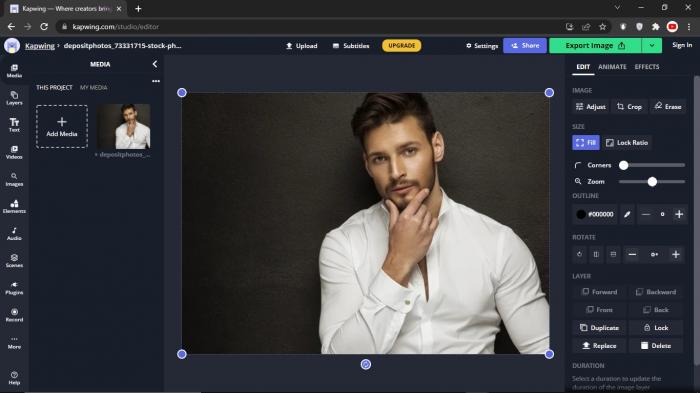 After clicking on erase option, you will see another interface of Kapwing that will show you options for removing the background and converting your image into PNG. Use the magic wand to select the area and remove the unwanted background.
Also read How to Make gif transparent online - 3 best tools.
Method # 2: How to create transparent PNG semi-automated
As the name shows Online PNG tools are used for creating PNG images from any format that has a background. The software is very quick & simple, it has three options; upload image, save the image, and copy to clipboard. There is only a single interface on which you can upload the image and process it according to the requirement after the image is processed you can save the PNG. Here, we have a step-by-step guide about how to create transparent PNG with Online PNG Tools.
To create a transparent PNG, visit Online PNG tools and you will see an interface as shown in the picture. The two boxes shown in the image have three options at their bottom. Pick the option to upload an image and import your image from your device to the PNG tool. Your image will be quickly uploaded on the platform and become ready for processing.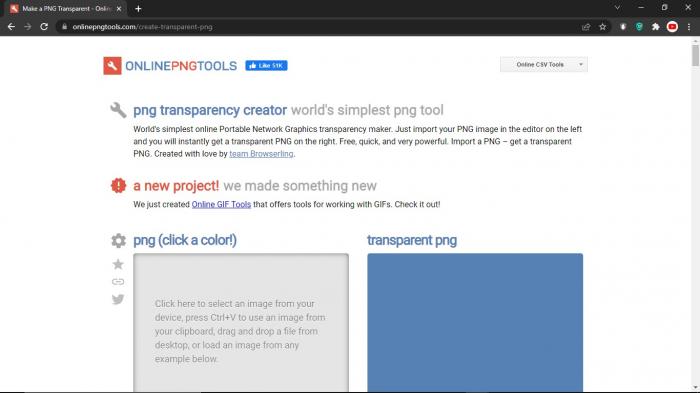 After uploading the image now, you have to change some settings according to your requirement and image type. There is a panel shown in the picture on which you can set the PNG requirements. Make sure that the settings you have changed do not affect the image quality. After setting everything press enter to see the effects of editing.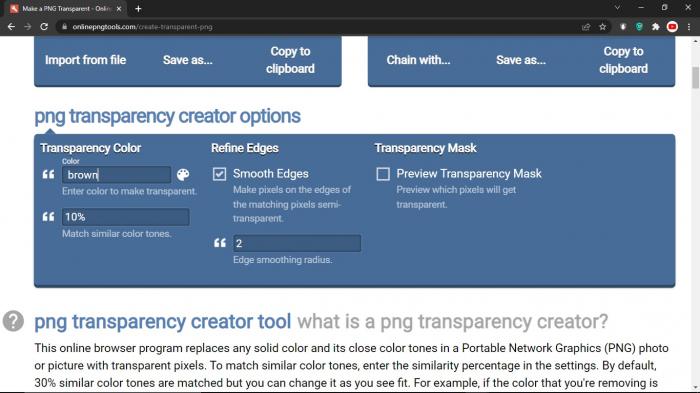 The last step is to preview your transparent PNG and make sure that there is no irregularity or color difference due to the change and setting customizations you have made. Correct it, if there is any problem and now click on the Save As an option to download the image into your device.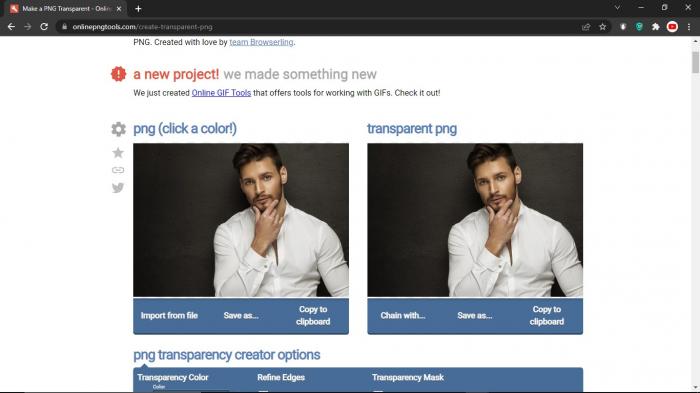 Method # 3: How to create transparent PNG automatically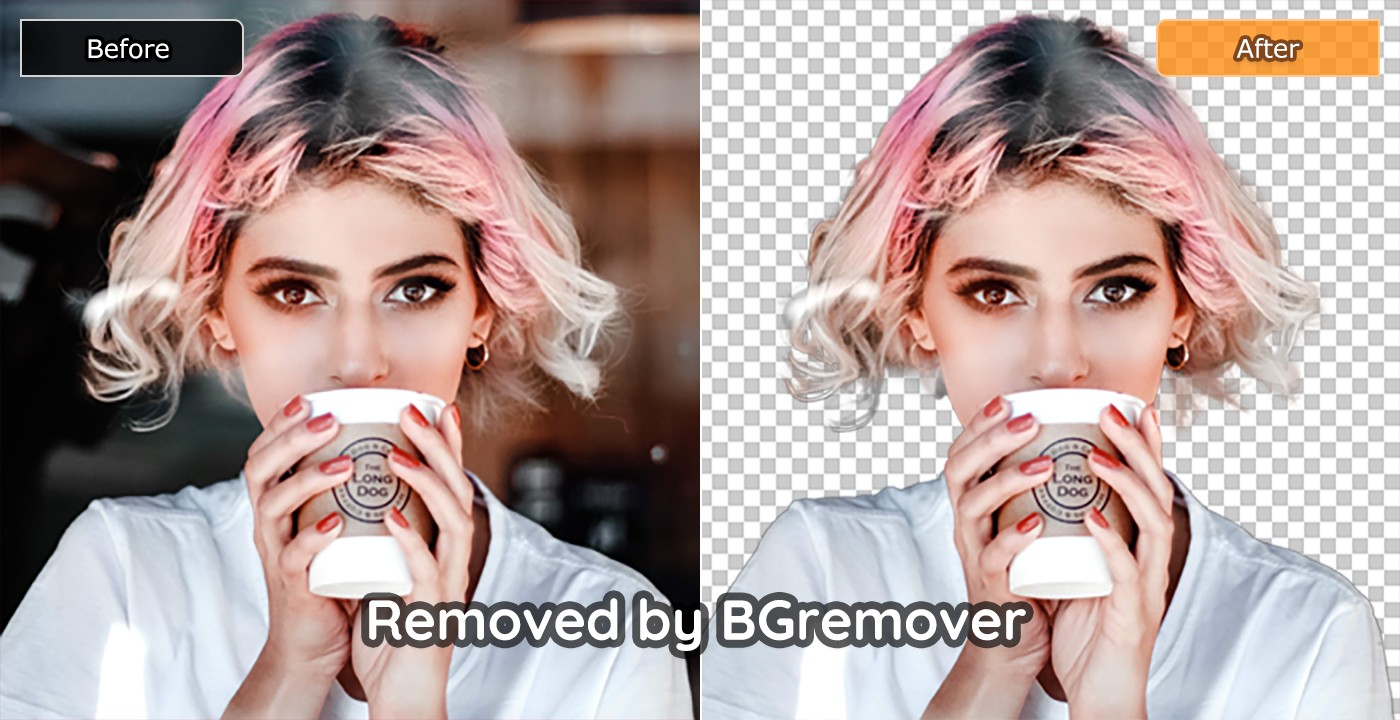 BGremover is the best online tool for hassle-free conversion of your image into PNG form. BGremover is an artificial intelligence-based tool and you don't have to perform editing or setting to create a transparent PNG image. This online PNG tool is fully automatic and based on AI-programmed software. You just have to upload the image and BGremover automatically processes your image and gives you a final transparent PNG image.
Visit the AI background remover website and you will see an AI-based modern tool interface design for photo editing and removing the background. On the left side of the interface, you will see the upload image option. By clicking on this option, you can source the desired image from your computer.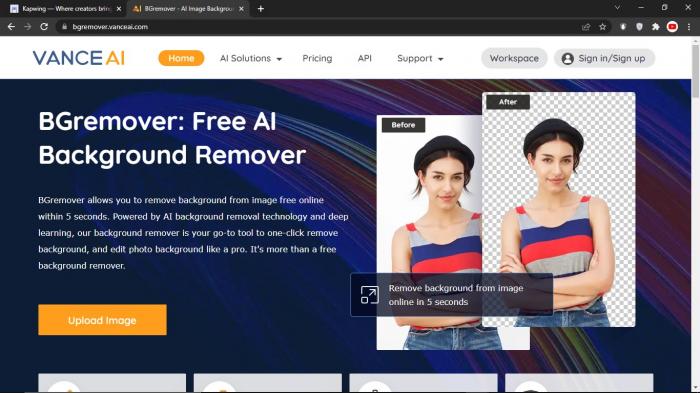 After that image will be uploaded, you do not have to perform any editing or manual background removal settings. BGremover will handle everything through its AI-based software and process your image without affecting its pixel quality and resolution. You can remove background from image free and automatically.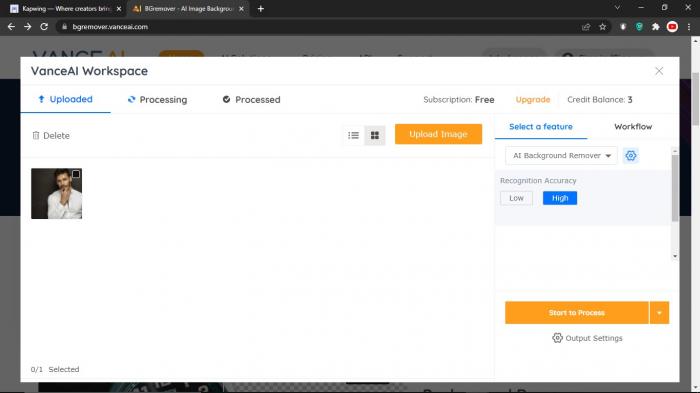 A finely processed image will appear in the form of PNG with a transparent background. You will observe that there will be no blurriness or roughness on the edges and everything will appear clear. BGremover is very effective because it converts your image into PNG by using artificial intelligence.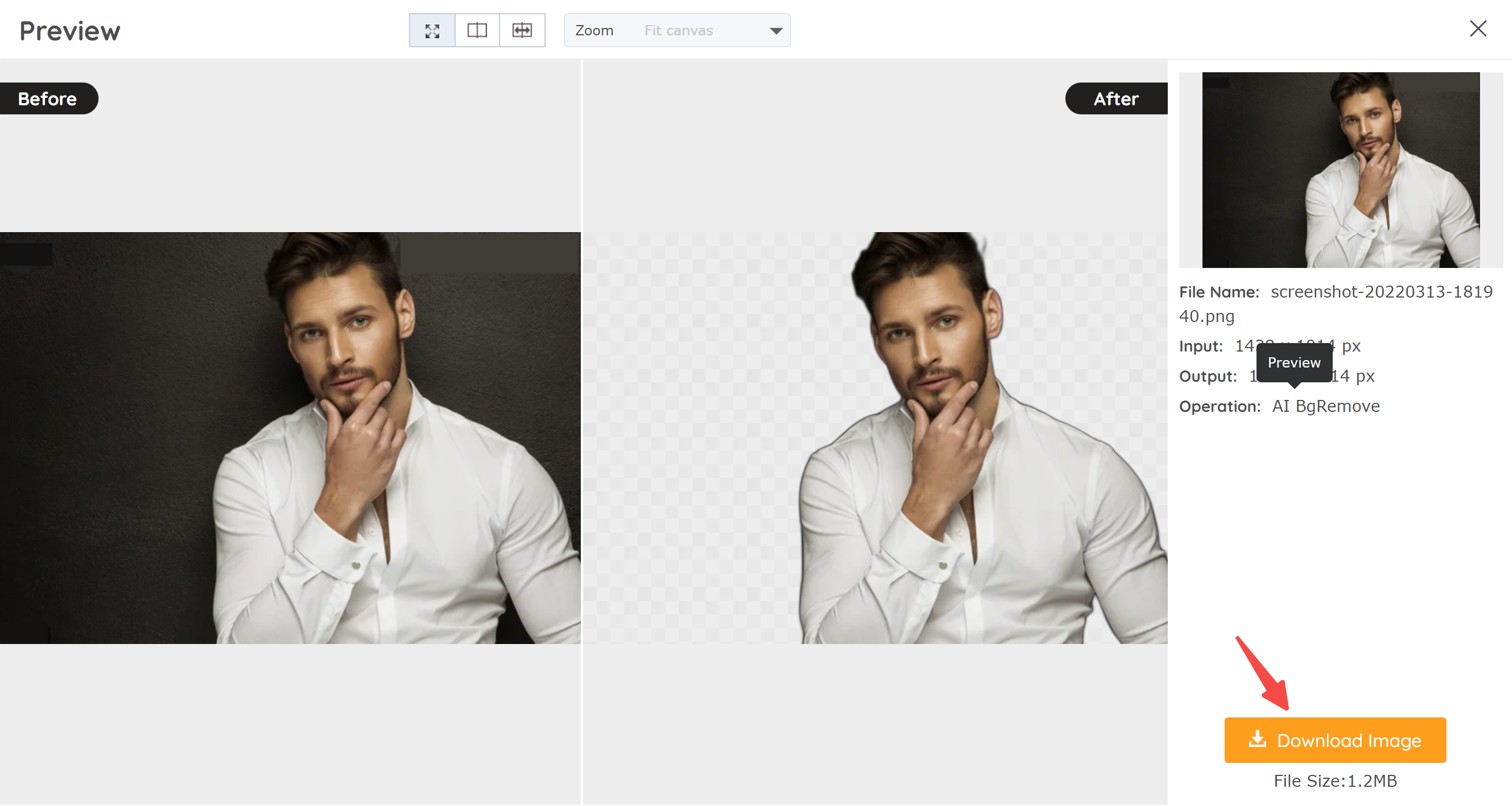 Choose the right method
We have discussed three different tools that can help you to create transparent PNG from an image. All three tools are capable of making a PNG without disturbing the original quality but they work on different principles. The first one Kapwing is a manual tool and you have to perform editing and image settings on your own. The second online PNG tool is semi-automatic software that enables you to create a transparent PNG. The third tool is BGremover in VanceAI, which is an AI-based fully automatic, and modern digital tool for making PNG. It protects the original quality and makes the process faster.
| | | | |
| --- | --- | --- | --- |
| | Kapwing | Online PNG tools | BGremover |
| Speed | ★★★☆ | ★★★☆ | ★★★★ |
| User experience | ★★★☆ | ★★☆☆ | ★★★☆ |
| Performance | ★★★★ | ★★★☆ | ★★★★ |
Final Thoughts
The most important thing that describes the proficiency of an online tool to create transparent PNG is the final quality of the image. Many transparent PNG tools ensure realistic and original image quality. But a lot of substandard PNG software apps in the digital market display very low-quality PNGs in final results. It is up to you which tool you would use to create transparent PNG. However, we will suggest you choose BGremover because it is AI-based and automatically performs the job for you.
Also read Best 10 Video Meme Maker Tools Review 2022.
Do you find this post helpful?
Yes
No