8 best video collage maker tools
1. Canva
Pricing: If you need a video collage maker tool for long-term work, it would be a decent choice to buy one-stop pro service of US $119.99 per year.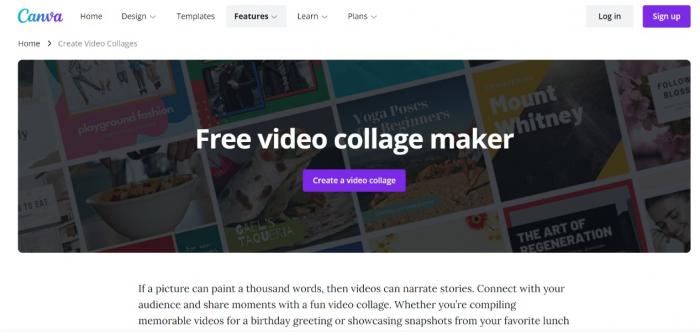 It could easily realize all design ideas whether you are individuals or teams,completing all kinds of daily design needs, from logos, posters, covers, presentations, small videos, etc.to. You can utilize templates in Canva for your own design and post your output directly on social media through Canva. Team folders allow you to keep files organized, store brand design resources, and modify content easily. Supporting real-time collaboration across different regions, companies, and departments, it highly accelerates efficiency for officers.
Key features:
2. Kapwing
Pricing: It offers free service for almost common functions but for pro version, users need to pay $16 per month billed annually.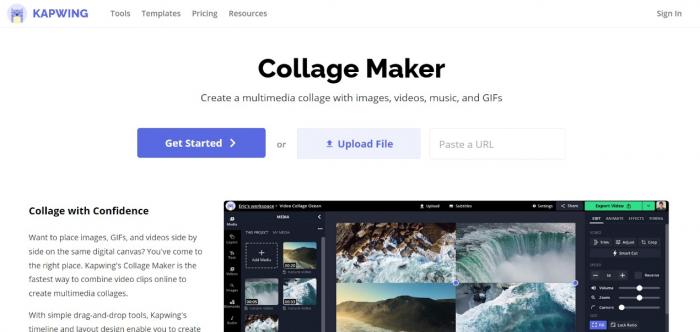 With the service provided by Kapwing, you can resize, trim, and recreate on video in a single intuitive tool. It is appreciated for its labor-saving features such as auto-generation of subtitles, removing backgrounds in one click, and smart translations. Powered by auto technology, Kapwing deals with fiddly tasks in within 5 seconds. Surely it will efficiently optimize your workflow on video editing and leave you more time on doing more valuable deeds like conceiving on achieving better presentation.
Key features:
Diverse devices supported
Easily navigating
Friendly to First-entries
3. Invideo
Pricing: It is a totally free video collage maker, so feel free to use it and create your stunning work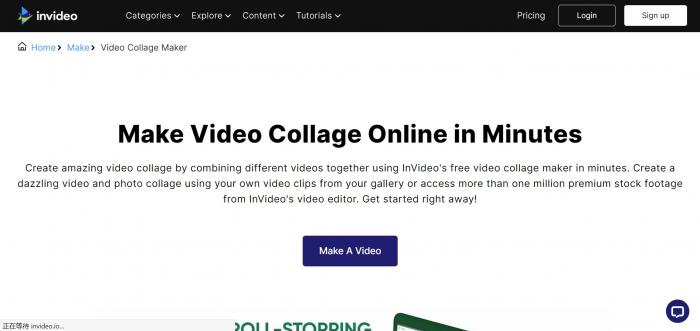 As an intelligent online video collage maker, it is not only simplified by drag and drop tools, but also allows you to make your expectation on free video collage maker come true. With one click, your idea on adding BGM into video comes true by video collage maker with music. Select or design a custom collage layout from the collage template. For video layers, trim, crop, and rotate can be embedded. You can use kapwing's photo editing tools to filter, adjust and edit image layers.
Key features:
One-stop service
Abundant templates for selecting
Fast processing speed
4. Smilebox
Pricing: For premium users, $4.99 per month is a fixed charging fee. Compared to some expensive photo and video collage makers, its cost is suitable for students.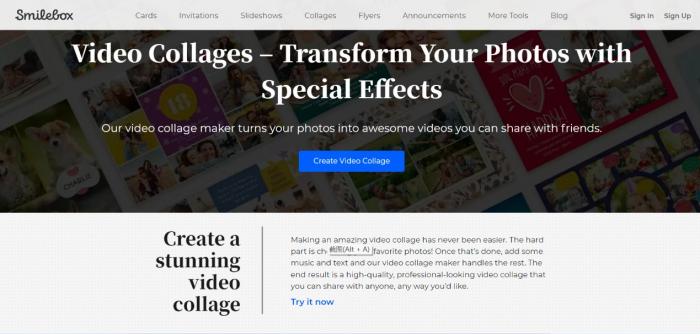 Smilebox is an efficient and professional flash album and slide production tool. It provides hundreds of templates for users to design and use. What's more, Smilebox software is easy to operate for those who have little experience on video making. If you are looking for a tool supporting photo processing, slides, scrapbooks and greeting card making, it can satisfy your demand and ensure you use it perfectly. By the way, inner templates and editing function can easily help you complete the creative design.
Key features:
Unlimited storage
Large variety of templates
Relatively lengthier loading time
5. Adobe creative cloud express
Pricing: Free of charge.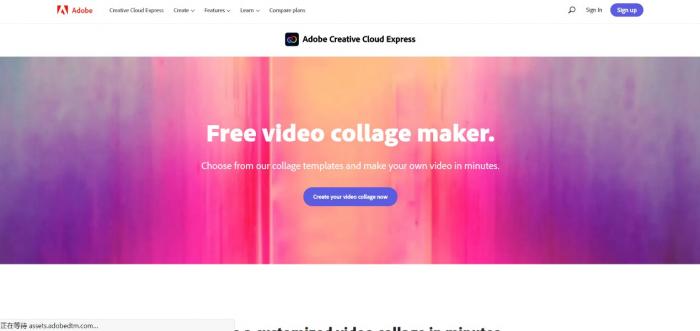 The Creative Cloud Express collage maker offers users freedom to be creative and visualize your ideas in mind into realization. With its simple UI design, you will find it easy to handle. You can choose theme from the platform provided and add in your footage and do some customized creation like adding text and transitions as well as publishing the output for your desired destination. As good as above functions referred, it is also equipped with expert processing system. Hence, among diverse excellent online video collage makers, it is still to be a nice tool for you and never disappoint you for the ideal clipping performance.
Key features:
Expert in video processing
High reputation
Free of charge
Also read Best 10 Photo to Video Maker Tools Review 2022.
6. Fastreel
Pricing: Only pay for approximately $10 per month of Premium charge can you get access to unlimited tools.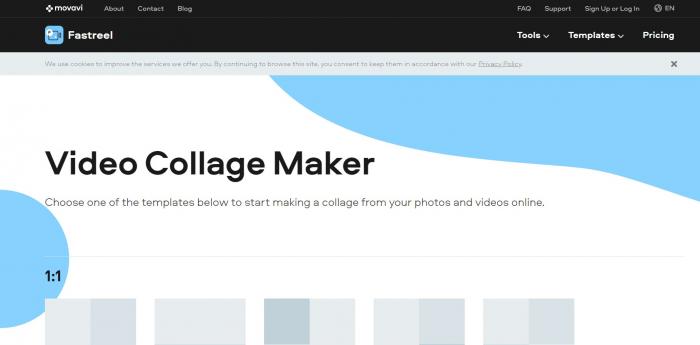 No need to download and install any programs for PC – with Fastreel, you create your collage online. What's more, Fastreel enables everyone to make and edit videos with only two clicks, even if you've never done it before. Fastreel provides users with basic and professional tools to cut, reverse, and rotate videos, make slideshows, make split screens, and more. Fastreel is designed to be an online collage video maker for editing and reliving invaluable moments in one's life.
Key features:
File Safety
Intuitive Interface
Wide Choice of Template
7. veed.io
Pricing: $12 per month billed US$144 per user annually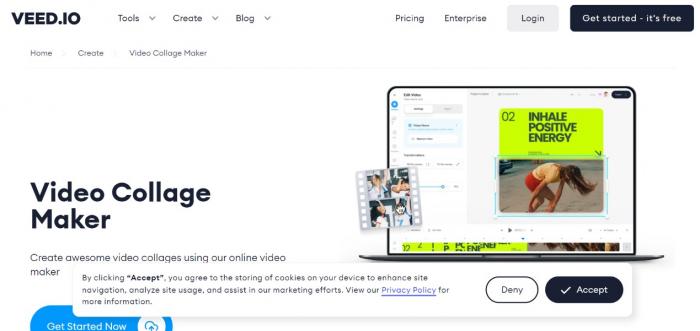 VEED is an excellent online video collage maker offering lots of free templates for making original and creative collage videos! What you only need to do is just drag and drop your videos into the templates, and then you're ready to go! VEED has many great editing tools to sparkle your videos -special effects, emojis, filtering as well as automatic subtitle generator! VEED's online video editor gives you all the tools you need to create awesome video collages at your fingertips. The intuitive interface makes collage maker incredibly easy to use.
Key features:
Intuitive interface
Keep up with social media
Across-the-aboard functions
8. Typito
Pricing: Typito supports free plan for individual video editing. Besides, you are charged of $15 per month billed per user annually for professional designer for business.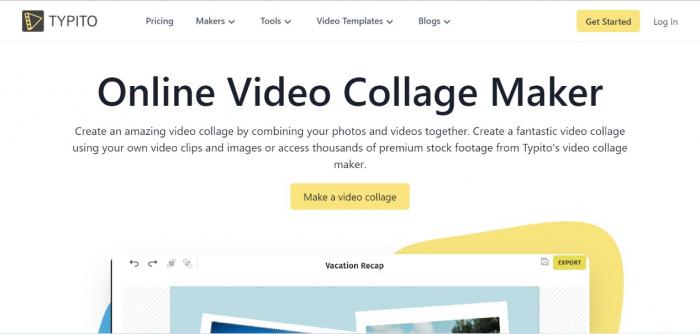 With Typito's video collage maker, you can freely create reels that collage together all your favorite video clips. Use the video collage maker to fit together footage from birthday parties, weddings, graduation ceremony, drama plays, and so much more. The editing tools are also easy to utilize and customize your videos!
Key features:
Live Video Preview
Utilities for business
Magic clipping effect
Highlight valuable moments
Also read How to Create a Collage on iPhone | with 3 APPs.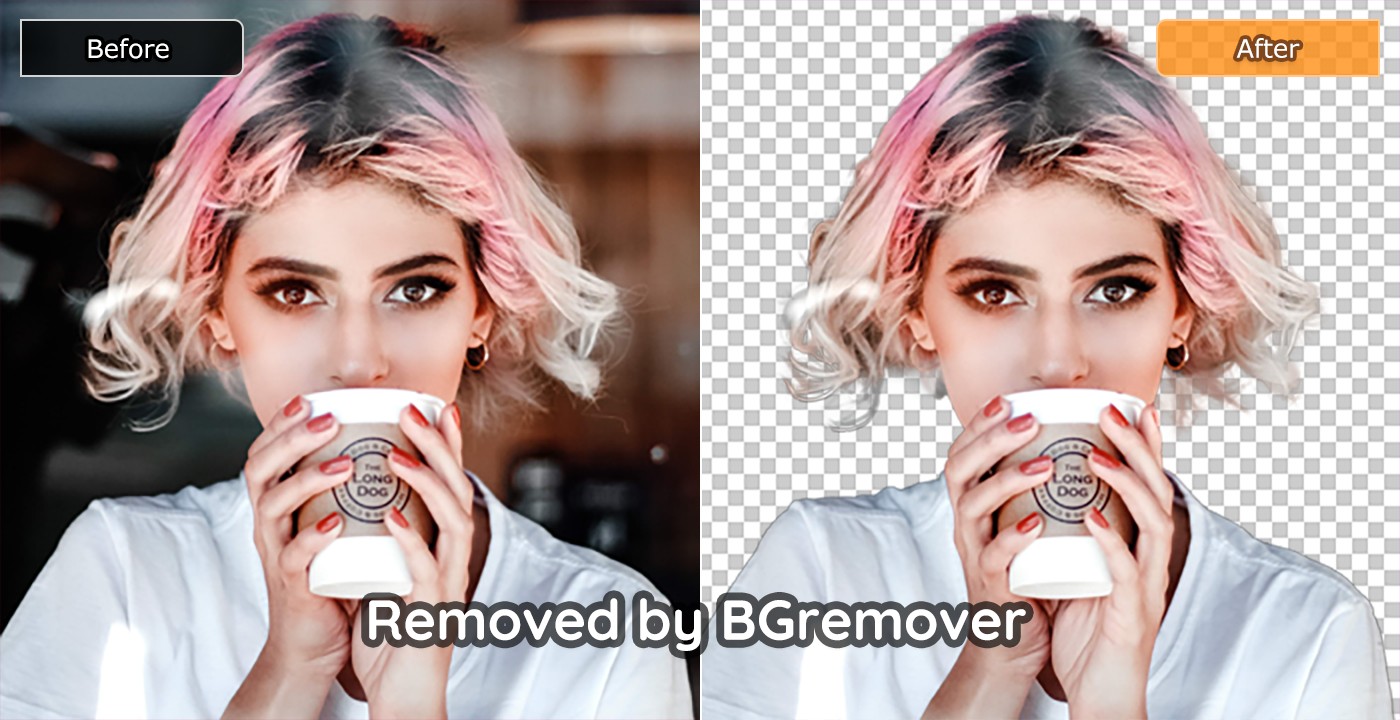 Pricing: Now you can enjoy the preferential discount on an annually paid subject, $4.99 per month.
Video cover is also important to the representation of a video. If you are a video blogger or working for more likes on social media, just as the tools above which enable you to edit, split and merge videos, there is also another useful tool named BGremover you may need.
Powered by AI technology and deep learning, it supports you to remove background from image in one click. What's more, it provides one-stop service for editing and replacing the background to the version you wanted.
Key features:
Data Security Guaranteed
Customize Photo Background Freely
Web-crossed online tool
Conclusion
It's the same for everyone that there are a lot of moments of one's life worth sharing. Using the free video collage maker is enough for personal editing. With Video's ready-to-use collage templates, you can make an incredibly stunning video or gif collages online with music and effects. Whether you want to create one for your friend's birthday or show your products or brand off, those photo and video collage makers will be nice choices for you. Choose your template right away and get started! Besides, try VanceAI Photo Enhancer for image upscale or image sharpness.
ALso read: Best 5 Discord Emoji Maker for Custom Emotes.
Do you find this post helpful?
Yes
No