Pre-process Your Elements
After getting all elements ready, you need to pre-process them by removing background from them for easy compilation and editing with the other elements. Major elements like logo, headshot, stickers, fonts, and others need to be deciphered ahead before using them in the thumbnail maker for YouTube. To do this, you can make use of a background remover app like BGremover and follows these steps: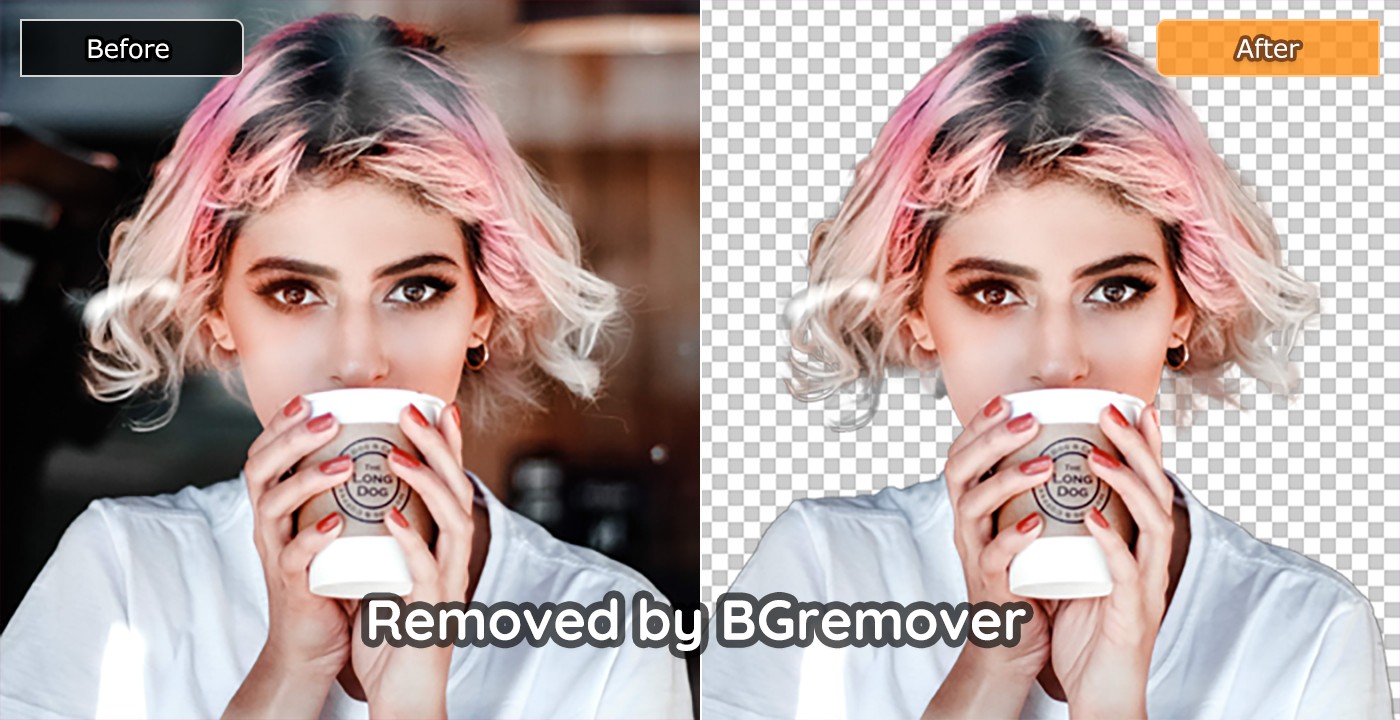 Step1: Upload the image.
Step2: After uploading the image, you can click "Start to Process" to process the image.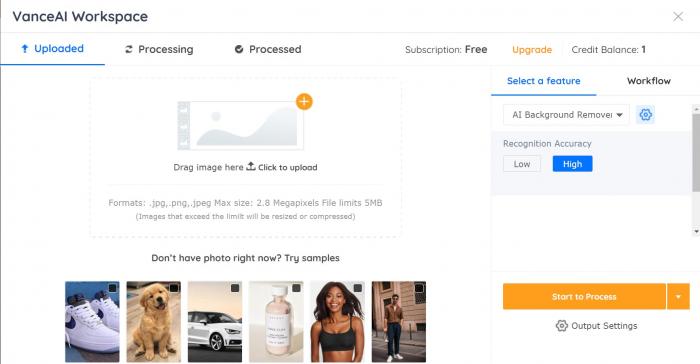 Step3: Download the image from the free AI background remover.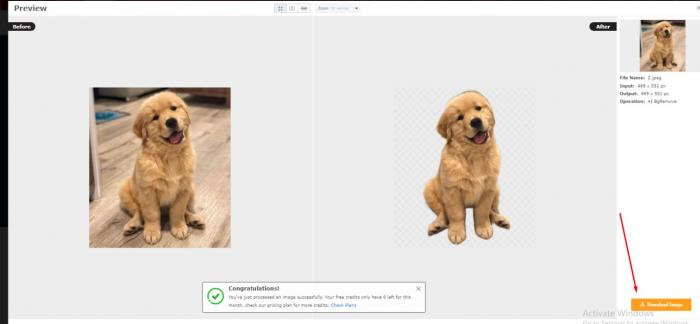 Top 10 YouTube thumbnail maker Review
1. Canva
Pricing: Free and Paid (Starts at $12.99/mo)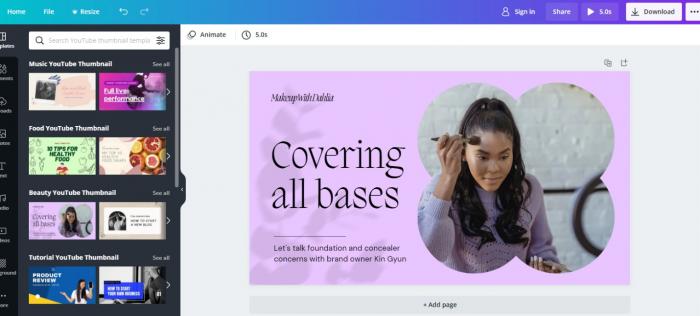 Canva is an online graphic design tool that enables you to create and design off an already amazing template. This tool is one of the free thumbnail makers for YouTube although it also has premium packages too the free should be enough to get you going. With advanced design features and templates, any dummy can use Canva as a YouTube thumbnail maker.
Feature
Design-templates
Easy and free to use
Automatically saved work progress
2. Picmakter
Pricing: Free and Paid (Starts at $7.99/mo)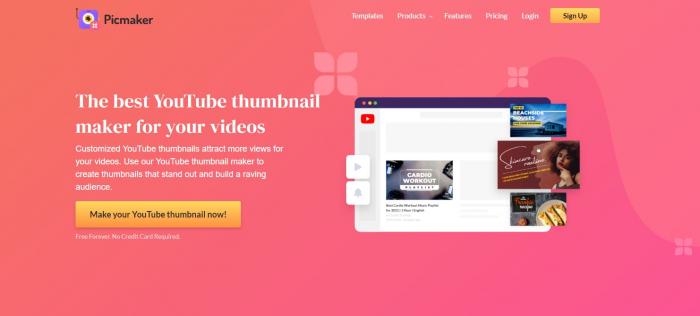 Picmaker is one of the best YouTube thumbnail makers available online. Having something for every niche, it has perfectly suited design tools to aid any YouTuber. You can remove background, edit your video thumbnail without restrictions and generate YouTube thumbnails suited for your videos with the professionally crafted available templates.
Features
Generate thumbnail templates
Remove image backgrounds
Add cool outlines
Thumbnail editor
3. Crello
Pricing: Starter and Pro (Starts at $10/mo)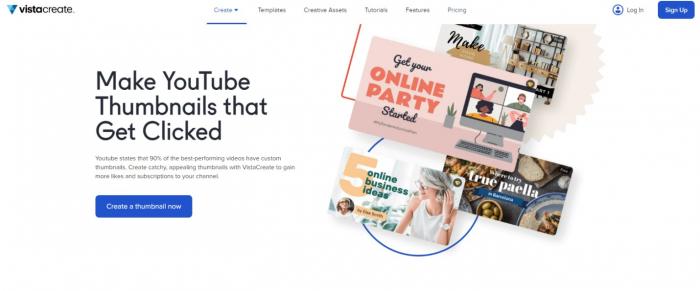 Crello is one of the best thumbnail makers for YouTube. You can create catchy, appealing, and interesting thumbnails that are sure to get you the needed viewers for your brand. Offering a DIY approach but with a guided tools pack to aid you, you can easily create YouTube thumbnails with Crello. They also offer over 40,000 templates as YouTube thumbnail makers.
Features
Over 40,000 templates are available
DIY guided approach
Multiple editing features
4. Visme
Pricing: Free and Paid (starts at $15/mo)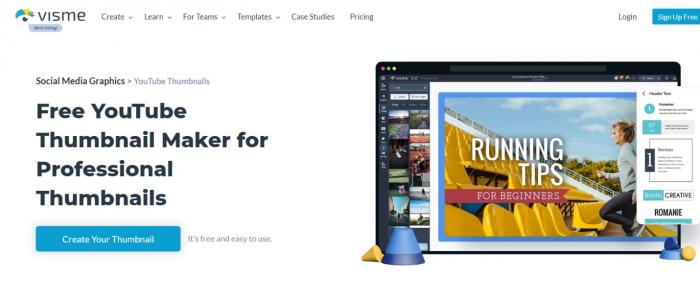 Visme is another great graphics and video editing tool that can be used as a YouTube thumbnail maker. Tailored to work with you in creating a brand of your own and giving voice to your ideas, It is steep and definitely worth the price if using the subscription-based plans. It offers beautiful thumbnail templates, or a DIY approach, and allows you to customize every aspect of your thumbnail.
Features:
Premade thumbnail templates
Easy drag and drop feature for design
Easy image download
Hundreds of thousands of stock photos and icons
5. Fotor
Pricing: Free trial and Paid (starts at $8.99/mo)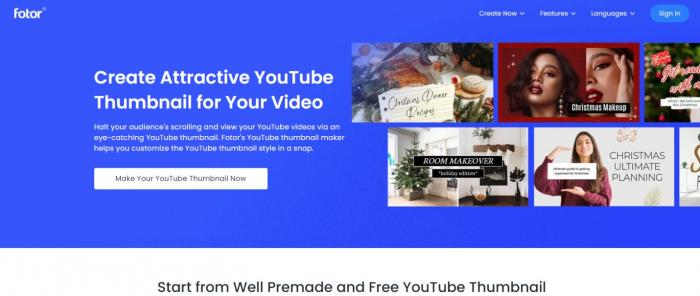 Fotor is like the lite version of Photoshop. It has almost all the features to make cool designs, yet it is extremely easy and straightforward to use unlike the layered approach of Adobe. With For, all you have to do is drag and drop the images, texts, colors, logos, and other templates. This YouTube video thumbnail maker will make the process completely hassle-free.
Features
Drag-and-drop design feature
Easy download of images
Unlimited customization
6. Creatopy
Pricing: Free and Paid (Starts at $17/mo)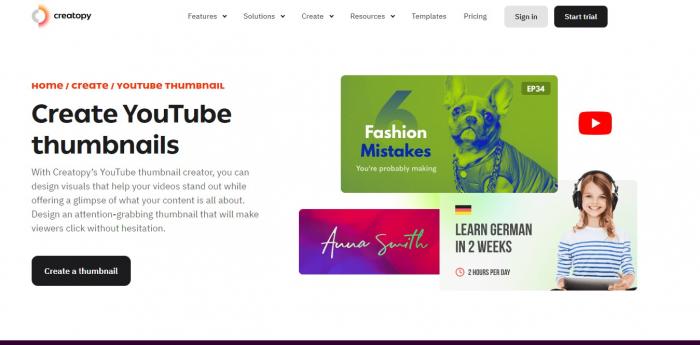 One of the most expensive YouTube thumbnail makers with extensive templates to aid your creativity. Creatopy is dedicated to professionals and more established YouTubers because of its wide range of editing tools and features. It provides stock images, typography presets, icons, shapes, Preset sizes suited for YouTube, builds brand consistency, and many more.
Features
Typography and Size presets
Stock images, icons, templates, shapes, and masks
Brand building kits
7. PhotoAdKing
Pricing: Free and Paid (Starts at $4/mo)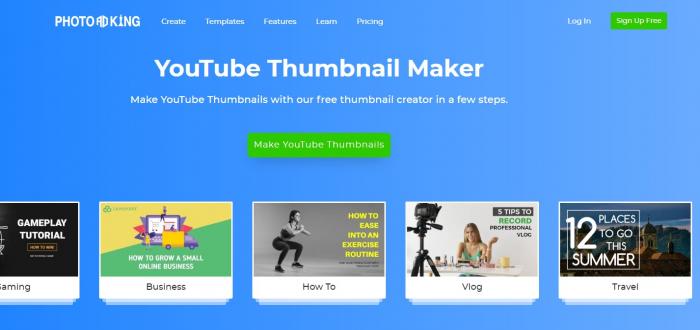 This free YouTube thumbnail maker would aid you to create stunning and eye-catching thumbnails for your audience to click on. With fully editable templates that extend beyond 2,500 and over 100typograohy styles and stock images, PhotoAdKing is perfect for beginners who are trying to water their feet in the YouTube space. Quick, easy, free, and personalized.
Features
Provision of stock images
Easy to use
Provides thumbnail templates
8. RenderForest
Pricing: Free and Paid (starts at $6.99/mo)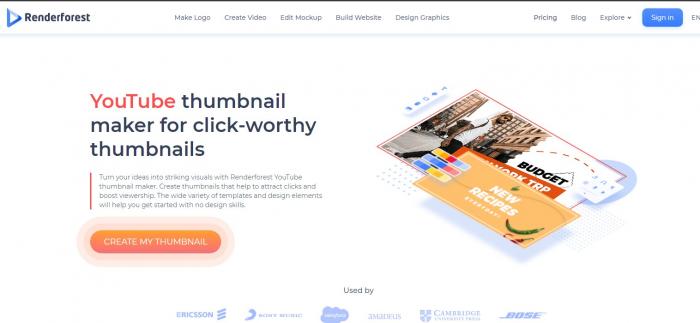 According to the site, you can turn your ideas into striking visuals using their YouTube thumbnail maker. With RenderForest, you can create a wide variety of thumbnails that will boost viewership and attract clicks. In simple and easy steps, you can be on your way to making the next internet-breaking thumbnail.
Features
Customizable templates
Advanced editing tools
Stock image library
9. Snappa
Pricing: Free and Paid (starts at $10/mo)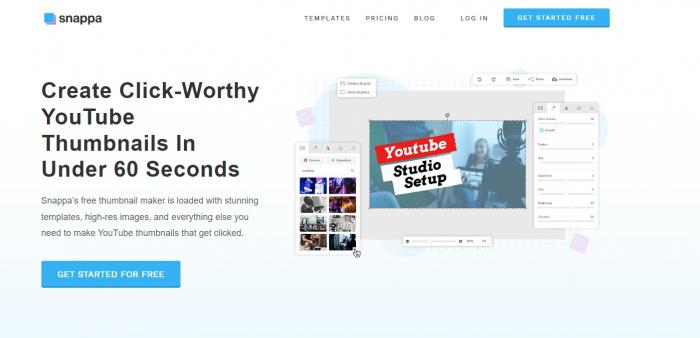 This thumbnail maker for YouTube will create click-worthy YouTube thumbnails within 60 seconds and that's a promise from the site. Snappa Has a stock image library filled with high-resolution and quality images, stunning templates, and almost everything needed to create your thumbnail. The only thing you need to bring is your creativity and you are good to go.
Features
Extremely fast and responsive
Stock image library
Thumbnail dimensions are preset
10. Promo
Pricing: Free and Paid (starts at $29/year)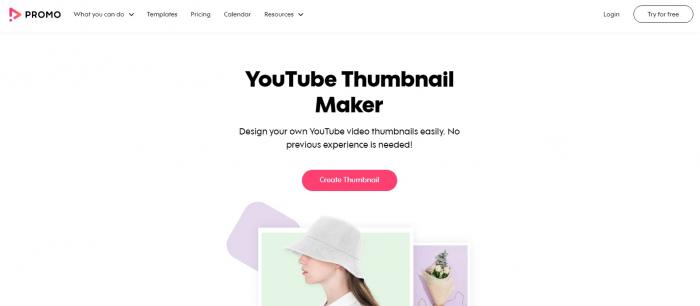 Perfectly suited to beginners and professionals, you can make use of Promo as a free YouTube thumbnail maker without bothering to subscribe for it. With this tool, you can create amazing YouTube thumbnails, brand your channel, design by yourself according to your creative flow, and have more than a 110 million thumbnail options readily available to use as templates.
Features
More than 110millions templates to use
DIY thumbnail creation option
No installation required
Conclusion
From this post, it is evident that these specific tools listed here are the very best available out there for a hassle-free and smooth thumbnail-making process. Hence, each of the tools has been outlined and reviewed with their strengths outlined depending on how to make a YouTube thumbnail for More Viewsat your needs are.
FAQs
Can you edit the YouTube thumbnail after posting?
Yes! After posting the thumbnail with the video, you can easily edit it by visiting the YouTube studio and clicking to set or change the thumbnail. Then you have access to the thumbnail which you can subject to further editing using a thumbnail maker. Don't forget to try BGremover to remove background from image for transparent images.
You may also want to read How to Make YouTube Thumbnail for More Views.
Do you find this post helpful?
Yes
No