Are you still fretted by the fiddly image processing tasks like removing images' background detail by detail? Why not try AI-based BGremover to free your hands? BGremover provided by VanceAI technology is a user-friendly online background remover that allows you to erase the background of photos with only one click. Let's delve into this tool and learn how to use it with 2 convenient methods.
Guide to Use BGremover
Method 1: Visit BGremover's Official Product Page
Here is a step-by-step guide on how to use BGremover to cut out background from images online through its official website.
Step 1
Go to BGremover's product page via any supported browser and upload your selected image in your local folder by clicking on the "Upload Image" button.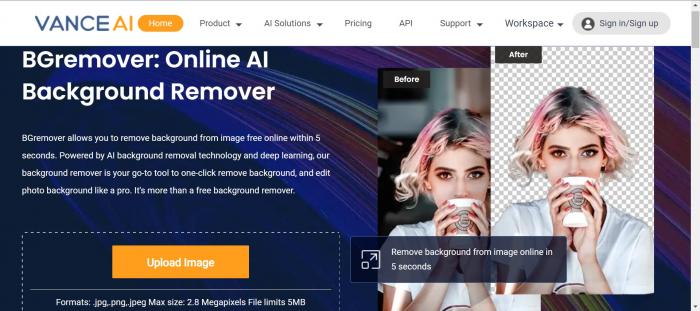 Step 2
After uploading the image prepared for processing, you will see the processing button on the lower right area of the screen. Click this "Start to Process" button, and then the AI background burner starts to process your images instantly.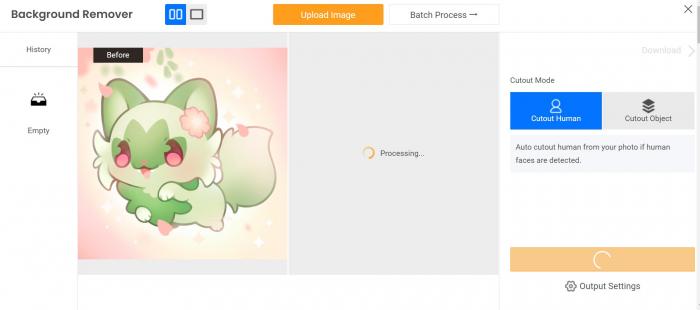 Step 3
After almost 3-5 seconds, your image will be ready to download. At that time, click on "Download Image" and save it. By following these 3 steps, you can use BGremover's Official Page to remove background online in a single-click approach.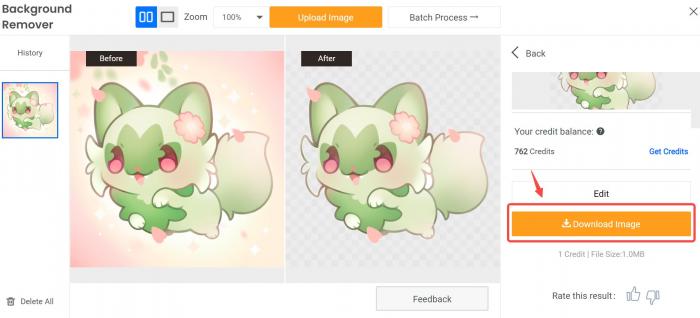 Method 2: Vist BGremover Workspace
If you want to skip the process of opening the product's page and save more time to do some creative job. Visit BGremover Workspace will be your best choice for instant background removal. With it, you are enabled to delete the image background in just one click. Just upload or drag and drop the image you want to cut out the background on BGremover's Workspace. And download your image after processing.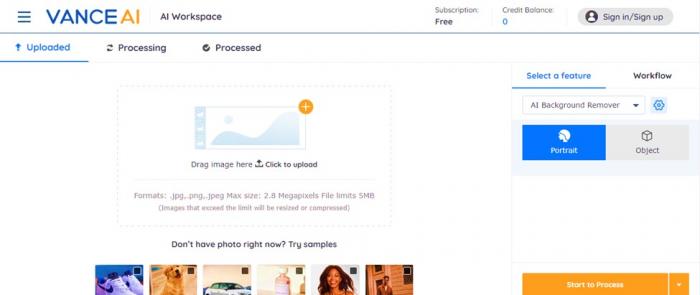 More about BGremover
BGremover is offering a one-click solution to remove image background and is available with a flexible pricing policy. VanceAI BGremover can remove the background from images without compromising the quality of the image. AI background remover also works in batch mode. If you can remove background from many images at a time use batch processing and process your images in bulk. AI background remover is based on AI-advanced technology and removes unwanted objects automatically by using AI image processing technology and deep learning. It doesn't require too much time and gives you instant background removal to boost your customer service. With BGremover get a transparent background in one click without losing pixels and deleting important details of your image.
Pros & Cons of BGremover
Pros
Get a transparent background with one click
Safe and Security guaranteed
Easy to use
Cloud-based online services
Offer flexible and proper pricing plan
Batch processing supported
Cons
Conclusion
BGremover is powered by AI technology, offering a one-click solution to remove the image background or cut out the object. It is a cloud-based SaaS tool that is approachable via any supported browser. With AI background remover you can get a transparent background of any messy and blurry image online. It is a perfect choice to get rid of any unwanted backdrop from the image. Try now to experience automatic removal.
Do you find this post helpful?
Yes
No