Remove the photo background before turning it into a video
Images with a uniform theme tend to tell a story better when you use a photo to video converter. Hence, if your images are devoid of this, you may want to remove and change the background to suit this intent. Of course, there's no better way to do this than BGremover. This is a tool leveraging the possibilities of AI and deep learning to help you remove and replace background online without the hassle.

How to use:
Step 1: Upload the image on the home page of this tool
Step 2: Click on start to process and wait as the tool automatically remove background from image for you.
Step 3: Now you can download the output. Apart from the basic image background removal function, BGremover also can remove background from signature.
Top 10 photo to video converter tools
1. Kawping
Pricing: has a free version and a premium offering that goes for $16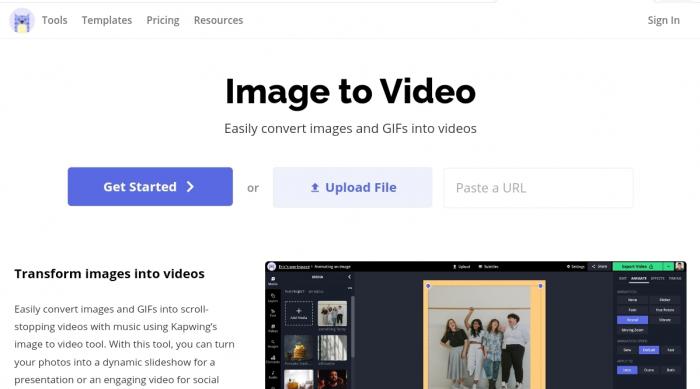 This is a full-featured video editing platform, featuring a boatload of features that allow you to perform basic video edits. If you're looking for an accessible and fairly quick approach to add photo to video, this is undoubtedly your best bet.
Key features
Truckloads of tools tailored to beginners
Comprehensive stock library
Tons of customization resources
High-quality output delivery
How to use
Step 1: Upload a couple of images on the platform using the available upload options
Step 2: Rearrange and reposition them with the drag and drop feature
Step 3: Make good use of the available templates
Step 4: Download the output.
2. Convert2Video
Pricing: completely free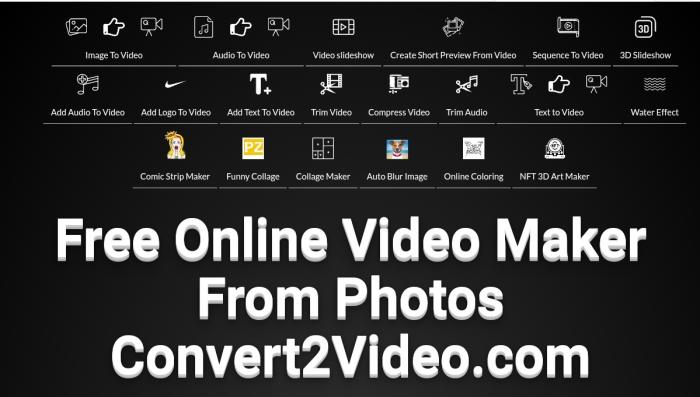 This is yet another powerful video editor, featuring a fully functional photo to video maker that not only allows you to add photo to video but also include music, subtitles, range of transitions, etc. Besides, after you've created the video, you can further trim and refine it right on the platform to suit your interest and preference.
Key features
Over 50 transition templates
Real-time collaboration with partners
Comprehensive stock library
Features a powerful timeline for a more streamlined workflow.
3. Adobe creative cloud express
Pricing: has a free and a $9.99 premium version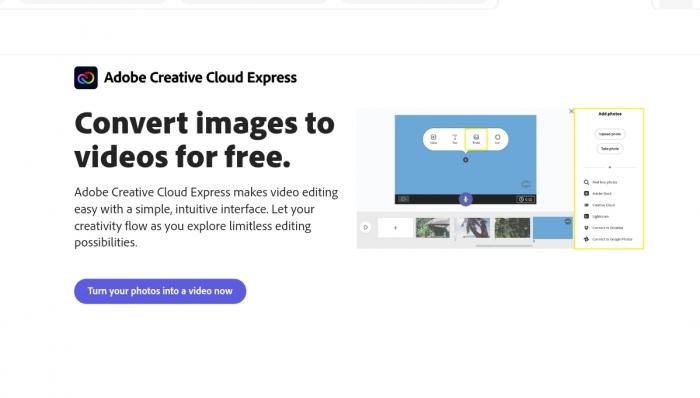 The functionalities of this tool go beyond just being a photo to video app, but is equally continually when it comes to creating web pages, social graphics, and everything related to graphic design. With adobe creative cloud Express, you can hammer out a professional video by just putting together a few images within a few minutes. The platform is straightforward, and you can be sure to access high-quality delivery.
Key features
Make brand stories from images
Direct social media upload
Streamlined video content creation.
4. Clideo
Pricing: unlimited subscription of $9 monthly and $72 yearly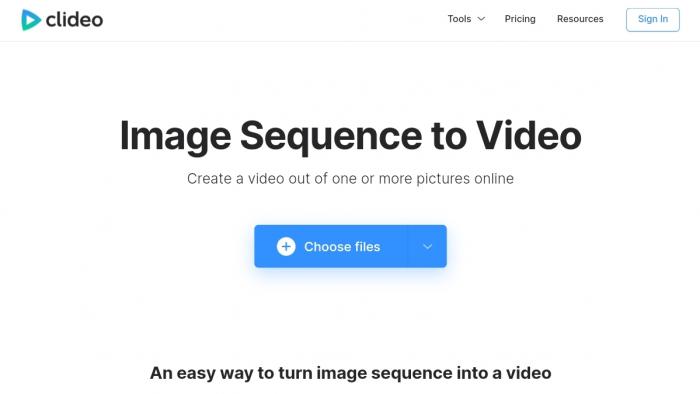 Clideo offers a pretty accessible approach to creating videos for almost every intent and occasion. Besides putting your images together and creating a photo to video masterpiece, Clideo can help you further enhance your content with the range of presets, templates, and effects embedded therein. In essence, it has almost everything you need to lead a successful video content creation journey.
Key features
Tons of templates, effects, and presets
Limited photo library
Full-featured platform
Several export presets are tailored to various social media platforms.
5. Fastreel
Pricing: two premium versions - $5.95 and $9.95 monthly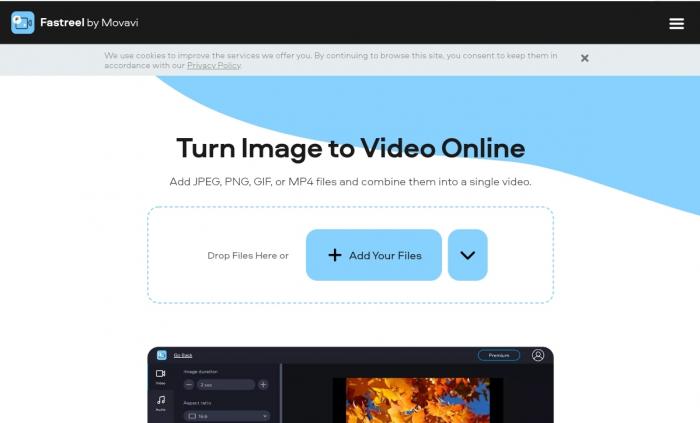 Fastreel is an online tool developed by the video editing heavyweight, Movavi. As opposed to what several other similar tools offer, fastreel is primarily tailored to help enhance your photo to video content with an overwhelming range of tools. Remember, it's not a photo editing tool, but you can always hammer out excellent slideshows from the images and tell a compelling personal or brand story with them.
Key features
Over 30 video templates
Split-screen and create loops
High-quality export options
Develop slideshow from scratch
Practical tutorial toolkits
6. Biteable
Pricing: $49 monthly for individuals and $208 monthly for teams, with discounts for yearly plans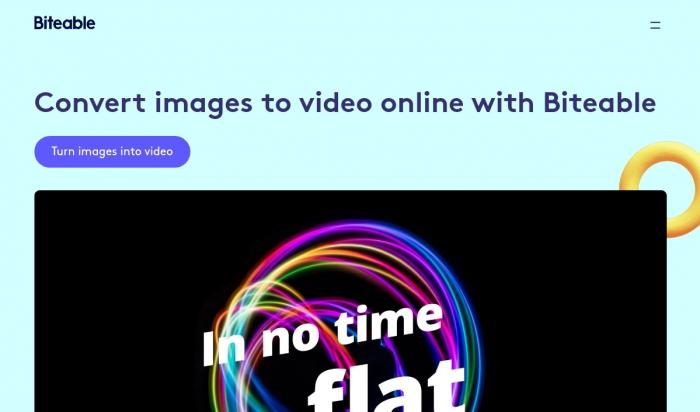 This is yet another online photo to video app, perfect for creating those social media slideshows, whether for ads or personalized content. This tool has some of the best features for a video creator. However, its only downside is in the fact that you can neither remove the watermark from the created video nor upload your video clip when using the free plan.
Key features
Sizable stock library with diverse handy varieties
Perfect for complete beginners
Twitter, youtube, and other social media channel export options.
7. Animoto
Pricing: personal basic subscription is $8 monthly with $15 and $39 for professional plans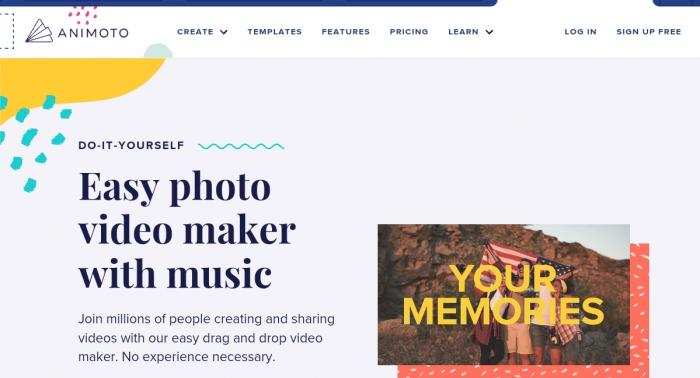 If you're looking for something to help you create extremely creative personalized videos from a few images, look no further than Animoto. This tool offers relatively more quality than what the market has to offer today. It is the perfect fit for your familial event slideshows, social media clips, hangout videos, and the list goes on and on.
Key features
Features two tutorials to make using It fairly easier
Several stories templates and music
720p and 1080p export resolutions.
8. Flexclip
Pricing: $5.99 monthly plan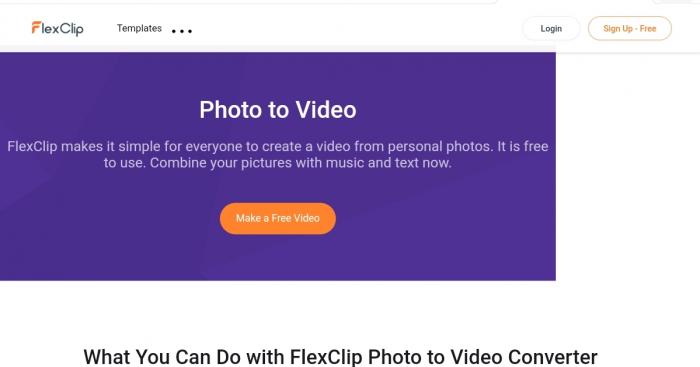 For marketers, who are seeking innovative and unique ways to tell their brand story while showcasing their products simultaneously, this is your best bet. Flexclip encloses a range of powerful features, music, videos, and even guides to help you achieve the best quality possible. Not to mention the overwhelming range of logos, overlays, and other customization features it offers.
Key features
A boatload of guides for beginners
Royalty-free sample content
Several logos, templates, and widgets
720p and 1080p expert resolutions.
9. Veed.io
Pricing: $12 and $24 monthly for basic and pro plans respectively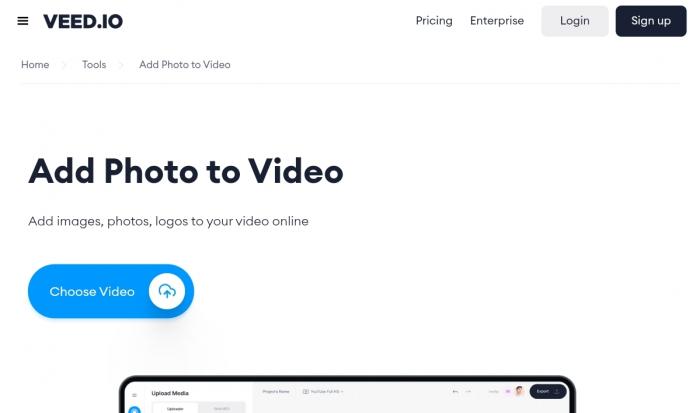 Veed is another popular video maker, and it's should be no stranger to you if you've been in this space for a minute. With the photo to video maker, you can easily add your logo, images and blend several other elements to produce a professional and high-quality video. And best of all, it does this with a few simple clicks.
Key features
Image content creation according to some set requirements
Wide variety of templates
Intuitive interface with drag and drop options
10. Flixier
Pricing: Has a free version. The premium version includes $10 for creators' plan and $25 for businesses.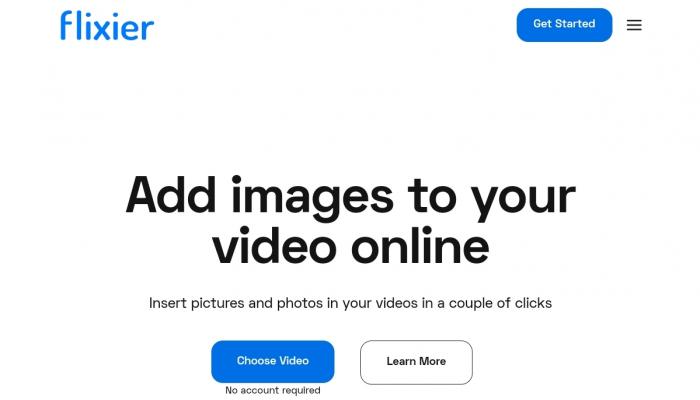 If you're looking to change your photo to video, while collaborating with your colleagues and partners, this is your best bet. The tool is flexible and allows direct sharing of content tailored to several social media channels, including Twitter, youtube, and more.
Key features
Over 2 million music samples for your slideshow
Intuitive drag and drop interface
Real-time collaboration with other creatives.
Bottom line
In this article, we explored a few powerful tools on how to add photo to video, as well as a recommendation for an effective AI background remover. Although almost every tool highlighted in this guide features a satisfactory range of features, you can't access the best experience from some via the free version. Hence, your choice should ultimately depend on work volume, budget, and the type of experience you're looking to relish using any of them. However, if you are confused about which background remover to choose, try VanceAI, it provides complete solutions for all image editing issues, and you'll get your images processed instantly.
Also read Best 10 Travel Photography Tips You Can Master Today.
Do you find this post helpful?
Yes
No