Gifs are one of the essentials to include in your social media trick box. To bring life to your conversations when chatting or give a perfect response that embodies how you feel, a gif can be quite helpful. Sometimes, you can get the perfect gif but with a clumsy background and you may ask yourself how to remove the background. If you are looking for how to make background transparent on your gifs, BGremover is for you.
Acknowledge the 3 most suitable gif background remover
All these 3 tools are amazing with quality features to help make background transparent in a gif. Depending on your needs, you can use any of the three tools. The online image editor is much easier to access and use with a better user interface. Online GIF tools may require some time to get used to and EZgif is easy to use also. Perhaps, this illustration will be helpful in choosing the right tool for you. Before knowing how to make GIFs transparent with them, let's briefly compare them.
| | | | |
| --- | --- | --- | --- |
| | Online GIF tools | Ezgif | Online Image Editor |
| Speed | ★★★★ | ★★★☆ | ★★★★ |
| User Experience | ★★★ | ★★★★ | ★★★★☆ |
| Performance | ★★★☆ | ★★★ | ★★★ |
How to make GIFs transparent with Online GIF Tools
You can make gifs transparent with one with online GIF tools. This browser-based tool is free to use and has an assortment of free features that are amazing to enhance your gifs. It is like a one-stop shop for all things related to gifs as you can make gifs, make gifs transparent, and also change the background colors of gifs. Also, this tool allows you access to choose frames to make gifs transparent. You can either decide on the frame or choose the whole. Data privacy is prioritized as this site doesn't save user data in this gif background remover.
Follow these steps to learn how to make a gif background transparent with this tool.
Step 1: Access the site and upload your gif. You can upload your gif by selecting an image from your device or dragging and dropping the image into the provided box. Also, if you have it saved in your clipboard, you can paste it too.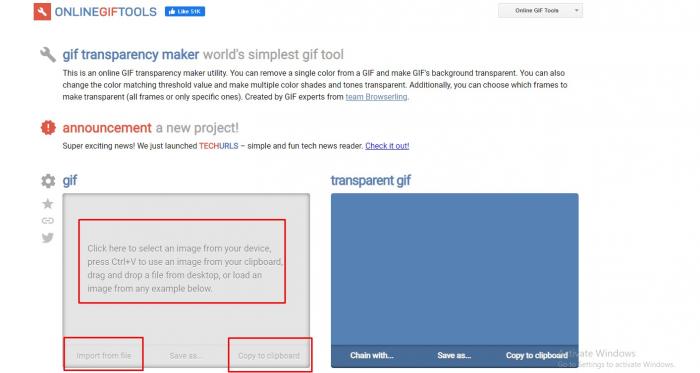 Step 2:After file upload, it automatically make transparent background and you can preview and compare the original file with the newly processed file.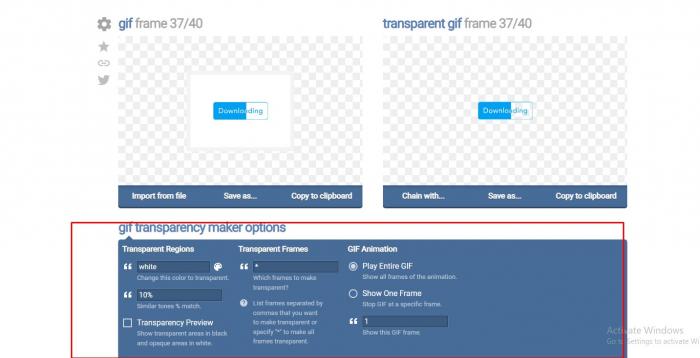 Step 3: After getting the finished product, you can decide to save it by clicking on 'Save as' to download the gif file. Also, theirs is an option to 'copy to clipboard' if you need it immediately.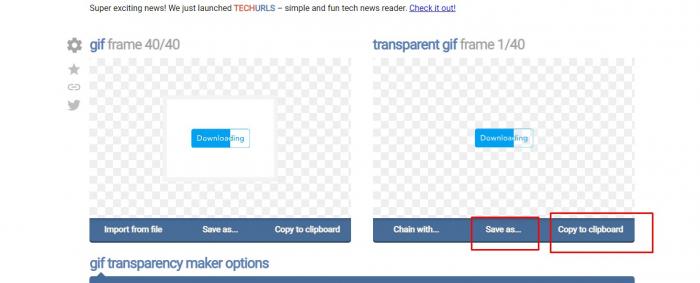 How to make transparent Gif with EZgif
EZgif is a gif management tool that can be used to make gif background transparent. This tool is free to use and offers quite a number of features to ensure you can customize your gif to your taste. It offers the chance to replace color with transparency after you have used it to make transparent gif.
Also, you can change the image colors on the gif and also adjust the lighting and presentation altogether. The tool also allows you to add effects such as frames, rounded corners and borders to gifs. In addition, you can filter the gif while sharpening or blurring it before you make gif transparent.
To use this tool to make gif transparent, follow these steps below:
Step 1: Go to the official site from the provided link above. Then click on the image box provided to upload your gif. There are options to do this. You can either 'choose File' from your device directly or use the Url of the gif. Just paste the link directly into the allotted box. After this, click 'Upload!'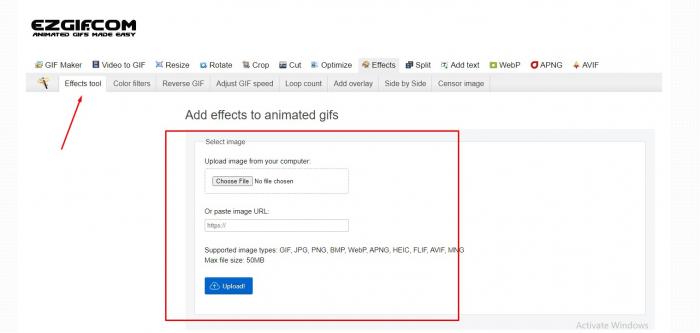 Step 2: After successful file upload, you are taken to the customization page where you can edit the gif to your needs. In here, you scroll down to the 'color presets' and tick the 'change background color' box. Then click on transparent background.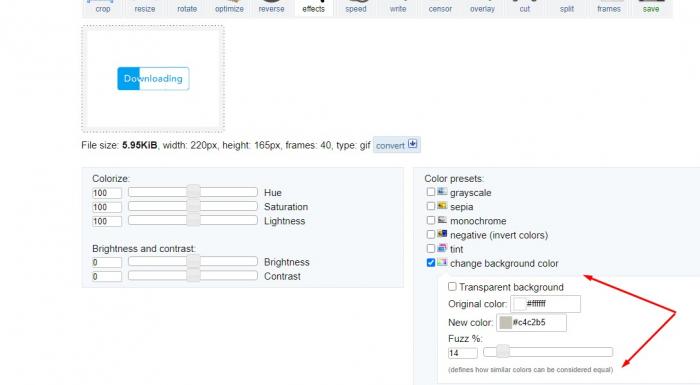 Step 3: Scroll down and click on 'Apply selected!'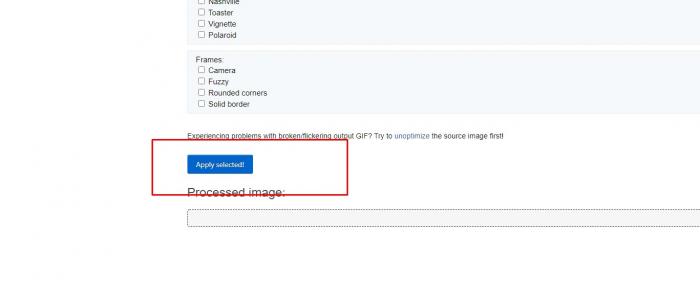 Step 4:You'll get access to the final output below. You can download it by clicking on 'Save'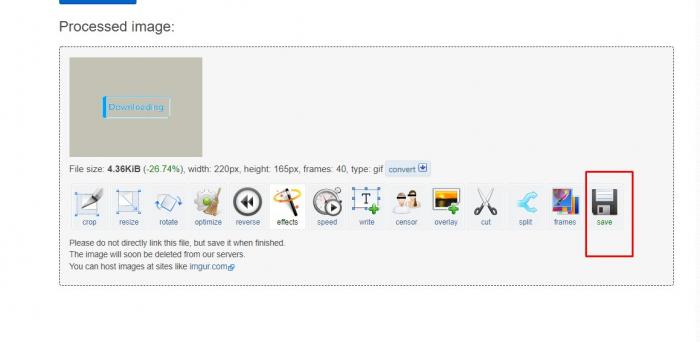 How to make Gif transparent with online ImageEditor
Online Image Editor is a free online tool to edit images and can also be used to make gifs transparent. It is accessible across all browsers and doesn't include the hassles of installing software. It provides features such as image overlays, overlaying animated gifs on static backgrounds, and many more. With this tool, you can easily replace photoshop as a transparent maker for your image editing needs.
How to make a transparent gif with this tool:
Step 1: Go to the website and click to upload your gif from your device or use the drag and drop option.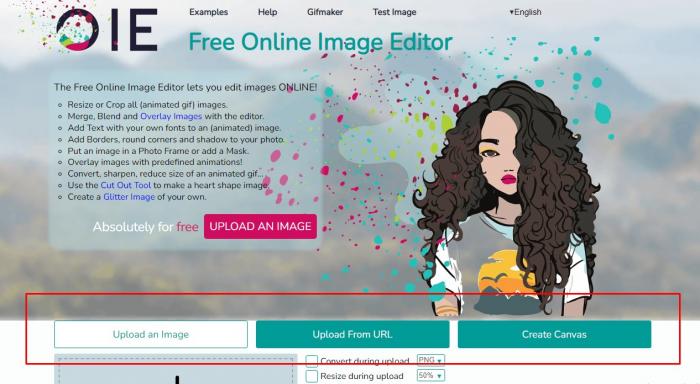 Step 2: Click on 'Advanced' from the toolbar menu. Then select 'Transparency'. Then customize your requirements for the transparency settings at the left toolbar menu drop down. Then double click your mouse on the gif to apply the effect.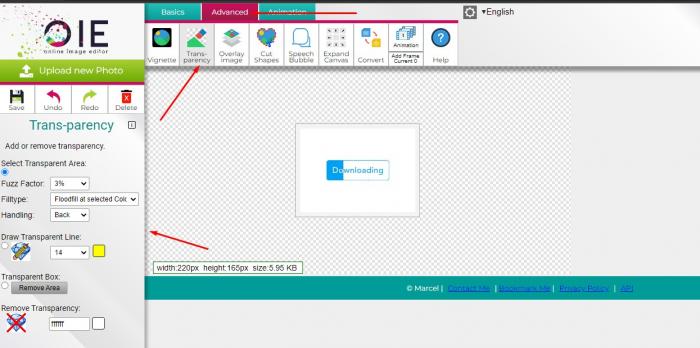 Step 3: Select 'Save' to download the gif to your device.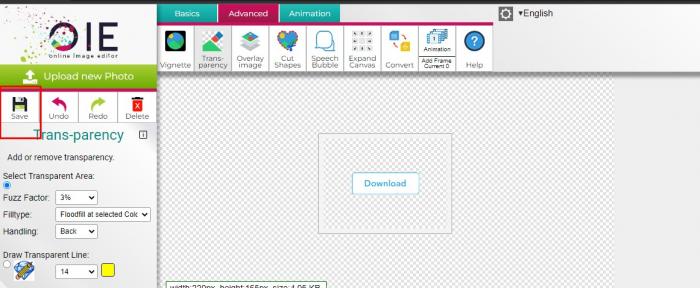 Best alternatives
If you are looking forward to a tool that is more convenient but may require a small fee as an alternative to the above 3 transparent makers, then I recommend VanceAI BG Remover.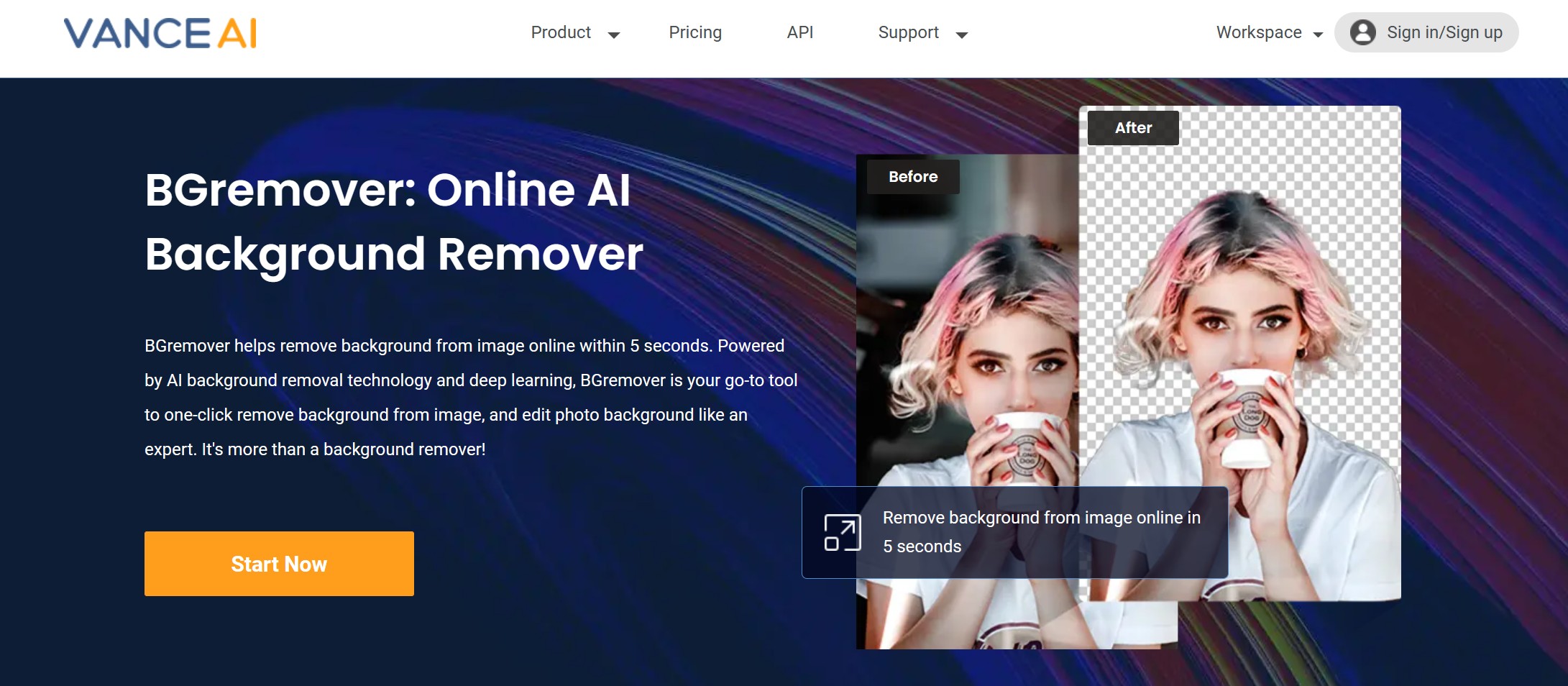 It can remove background from gif through simple 3 steps. compared with the 3 transparent makers above, it process removes background from the gif with higher speed and fewer clicks. And it gives 3 trial credits every month. You can decide whether to treat him as a gif background remover after conducting a trial.
Conclusion
This article has given a detailed overview of how to make a transparent gif background. Learning this hack can come in handy when you want to create your own gifs and create your own voice in the social media world. All 3 tools can help you remove background from image, don't hesitate to give them a try and find your favorite one! And if you need more online image editing features, VanceAI Image Enhancer might be helpful to you.
Also read Best 10 Transparent Stock Photo Sites Review 2022.
Do you find this post helpful?
Yes
No