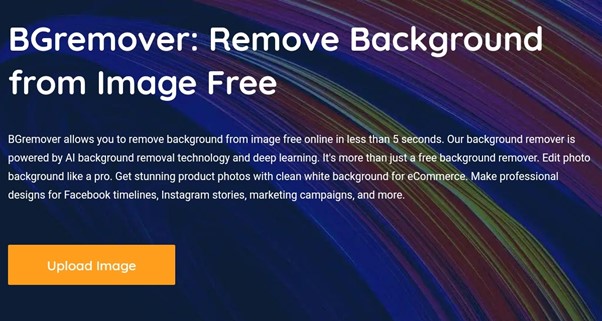 BGremover is an insanely handy and effective tool to create transparent background. The background remover adopts a high-end AI and deep learning framework to guarantee the quality attributable to the entire process of creating a transparent background and catering to even the most intricate image details. With this transparent background creator, removing the image background is just as simple as a few clicks.
Pros
Cons
It does not offer batch processing
How to:
To learn how to create transparent background with BG remover, follow these processes:
Step 1: Upload the subject image
Step 2: select start to process and wait for the tool to complete the entire process
Step 3: Download the result.
2. Online PNG Tools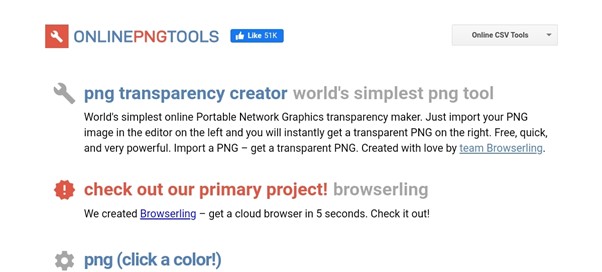 Here is an exclusive free tool to create PNG with transparent background. It is also easy to use with quality guaranteed. All you need is to visit the official website and import the image into the intuitive and user-friendly environment, where you can alter metrics such as transparency, etc. It is online and brings your desired changes to your pictures easily and fast.
Pros
Simple user interface
Online and free to use
No installation or download required
Cons
The output quality is somewhat lacking.
Also read How to Create Transparent PNG Online | 3 Best Methods.
3. LunaPic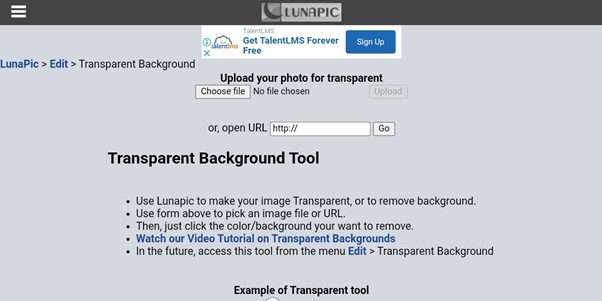 Lunapic is yet another online and free-to-use photo editing tool allowing you to create transparent background for free. Besides this, you can also easily import images, add effects on them, use filters, and customize according to your taste. The range of possible features you can access on Lunapic is wide, and you can achieve all of these with fewer clicks. Also, instead of direct image upload, you can simply paste the link of the subject image and edit it normally.
Pros
Image personalization at top standards
Quick and free to use
You can set transparency levels
Cons
The user interface is relatively unfriendly.
4. Remove.bg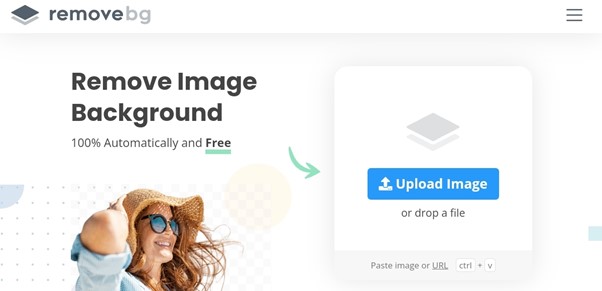 Remove.bg also does quite a fabulous job when it comes to instantly creating transparent backgrounds from any image. The entire process takes literally just about 4 seconds to create transparent background, irrespective of the complexity attributable to the subject image. All you need to do is upload the image, sit back and relax while the tool works its magic automatically. On generating the results, you may either decide to download or edit it further to match your taste. Remove.bg also features APIs that you can integrate into your workflow.
Pros
Intuitive and easy to use
APIs and integrations
The output quality is high
Cons
Some features are limited by subscription
5. ImageOnline.co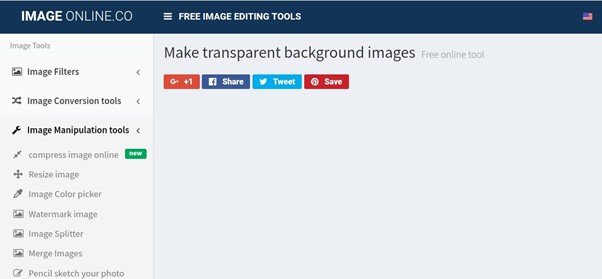 Here is another online tool to create transparent background by clicking pixels. Using ImageOnline.co, you can constantly adjust the color removal intensity to detect and remove specific colors in the image. Besides, you may decide to download the resulting image in JPG or PNG file formats. All in all, the tool is online and free to use. However, it could be somewhat daunting, requiring a few manual works. Try it here!
Pros
Renders support for various file formats
Free to use
Cons
Relatively ineffective
Questionable output quality
Needs many manual works.
Final thoughts
Sometimes, backgrounds do a little more than necessary in images, taking away their focal point. Hence, the need to create transparent background and set a suitable theme for the picture. To do this, any of the tools mentioned in this guide should do the magic. However, the most recommended AI background remover that will help you remove background from the image more easily remains BGremover, mainly due to its leveraging AI and deep learning. Let's try to create image with transparent background now! Besides, you can try VanceAI image enhancer for image upsacle or image sharpeness to make you photo better.
Interested in how to create transparent background? Also read Top 5 lightroom Alternatives to Remove Image Background Online 2022.
Do you find this post helpful?
Yes
No