A PNG color changer or an image color changer in general have a lot of uses, especially in content creation. You would need to change color of PNG for graphic design, image editing, photography, and more.
Sometimes, people simply want to change the colors in an image to suit their personal taste or to match a particular color scheme. This could be for decorative purposes, such as creating artwork, posters, or digital content.
With image editing applications, you can change color of PNG and other types of images in simple steps. In this guide, we will explore BGremover from VanceAI and how you can use it to change PNG color online.
PNG Color Change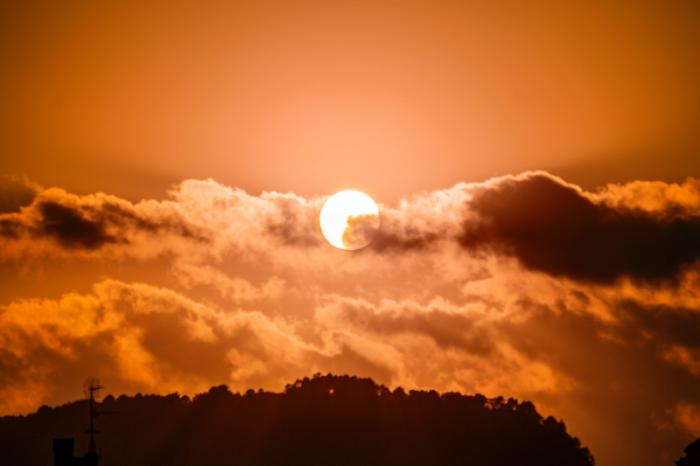 What Is an AI PNG Color Changer?
An AI PNG color changer application is a program that can help you change color of PNG images through advanced technologies such as AI and Deep Learning. You will find plenty of applications that offer such features. One such example is BGremover from VanceAI. It uses AI algorithms to automatically and accurately remove the background of an image first and then provide color changer features.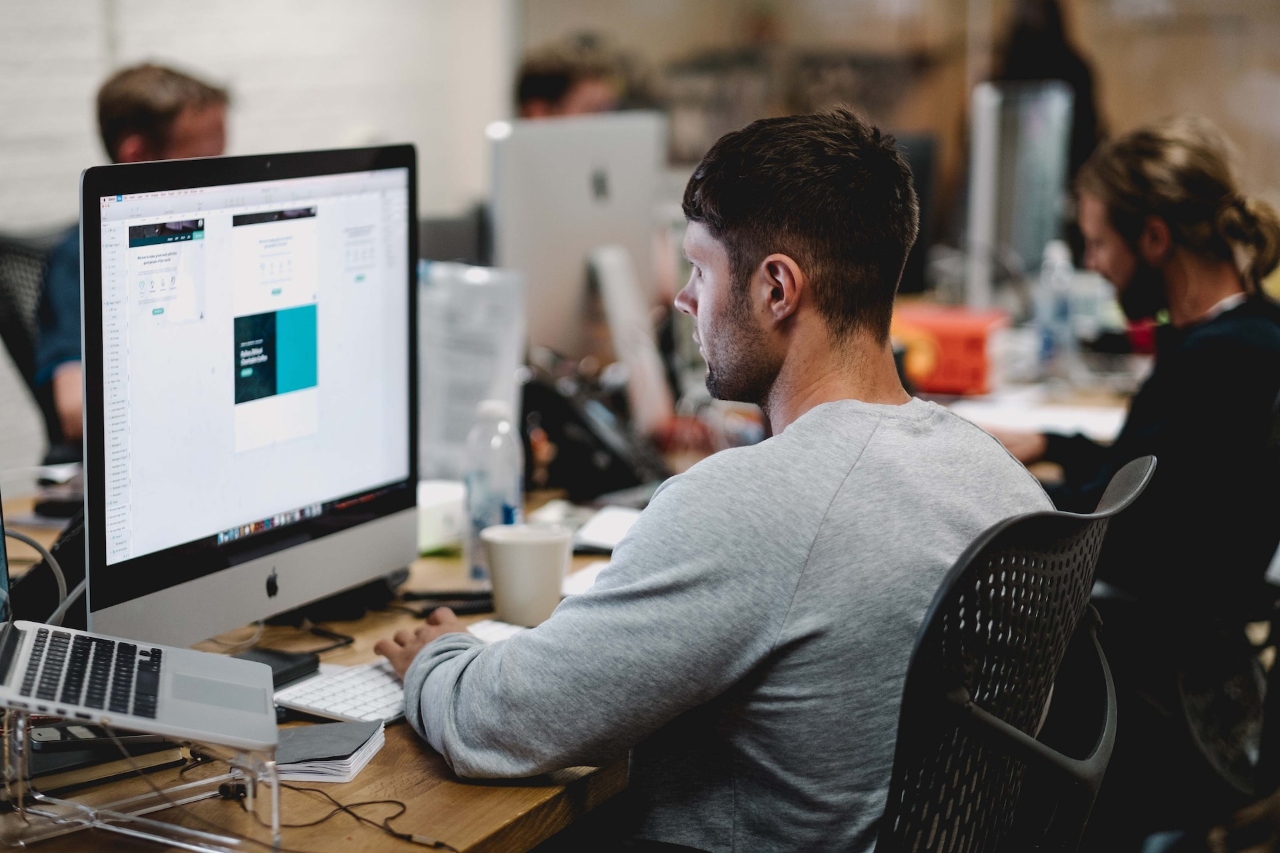 This tool is a versatile asset for a range of users and purposes. Graphic designers can change PNG color repeatedly to find the perfect combination, while marketing professionals use it to ensure visual consistency with branding guidelines. E-commerce businesses can efficiently create uniform product catalogs, and photographers can correct color issues in photos.
Why Choose BGremover to Change PNG Color?
BGremover serves as an effective PNG color changer tool by using AI technology to not only remove backgrounds accurately but also empower users to replace the empty background with any desired element. This versatile tool goes beyond mere background removal. With its Background Changer feature, users can seamlessly add new backgrounds, whether it's solid colors, aesthetic designs, or custom uploads. Therefore, it is possible for users to change their PNG images significantly.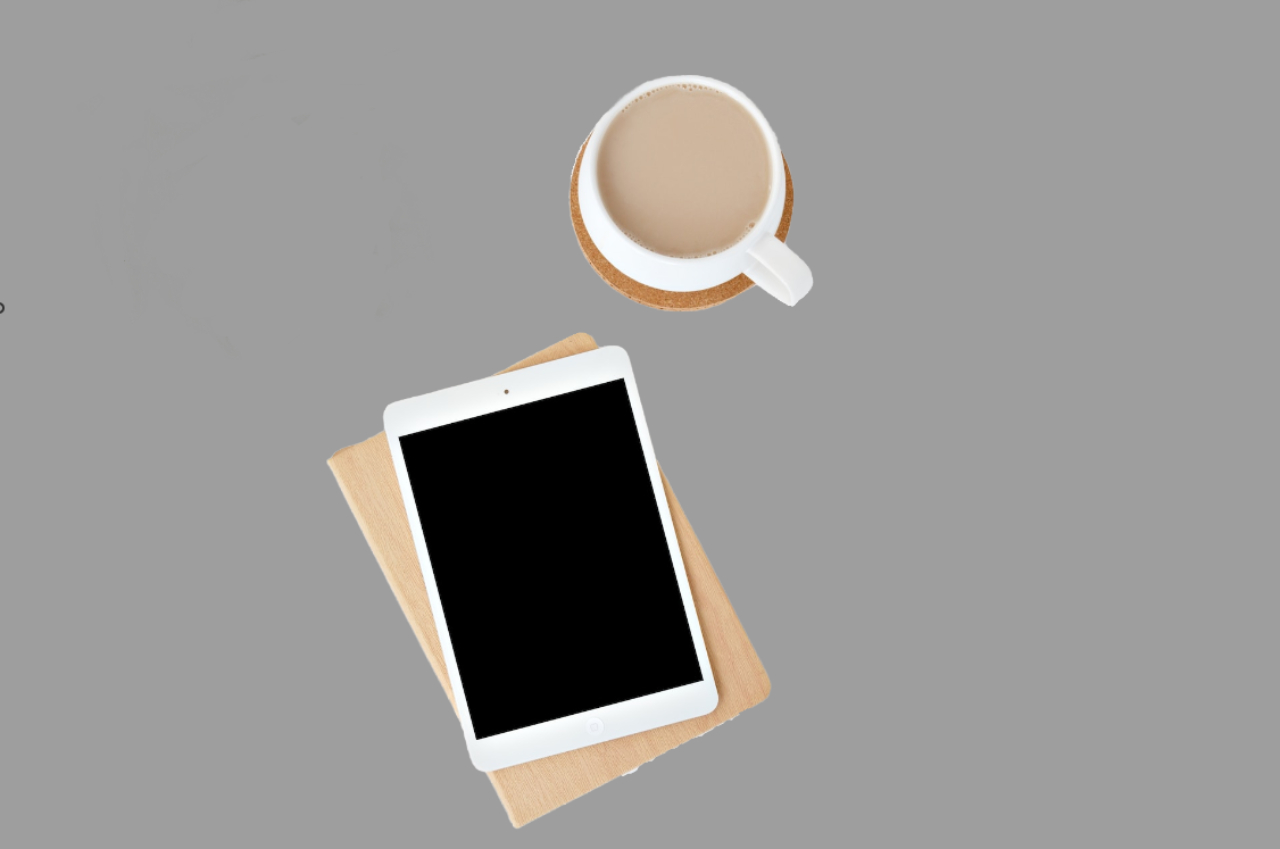 Furthermore, BGremover seamlessly integrates with other creative image editing tools offered by VanceAI. For instance, when combined with VanceAI Image Generator, users can upload their PNG images on the AI Image Generator and transform the photos while retaining its core visuals. Overall, there are many options when users choose BGremover and use it tangent with other creative VanceAI tools.
Not to mention that VanceAI offers subscriptions at just $4.95 per month. Prices are subject to change, but it is safe to say that VanceAI is a highly affordable platform.
How to Change Color of PNG With BGremover?
It is easy to change PNG color online with BGremover. Learn how to do so by following the guide given below.
Step 1: Follow the provided link to access BGremover online. Once there, locate and select the "Upload Image" button to move to the next stage.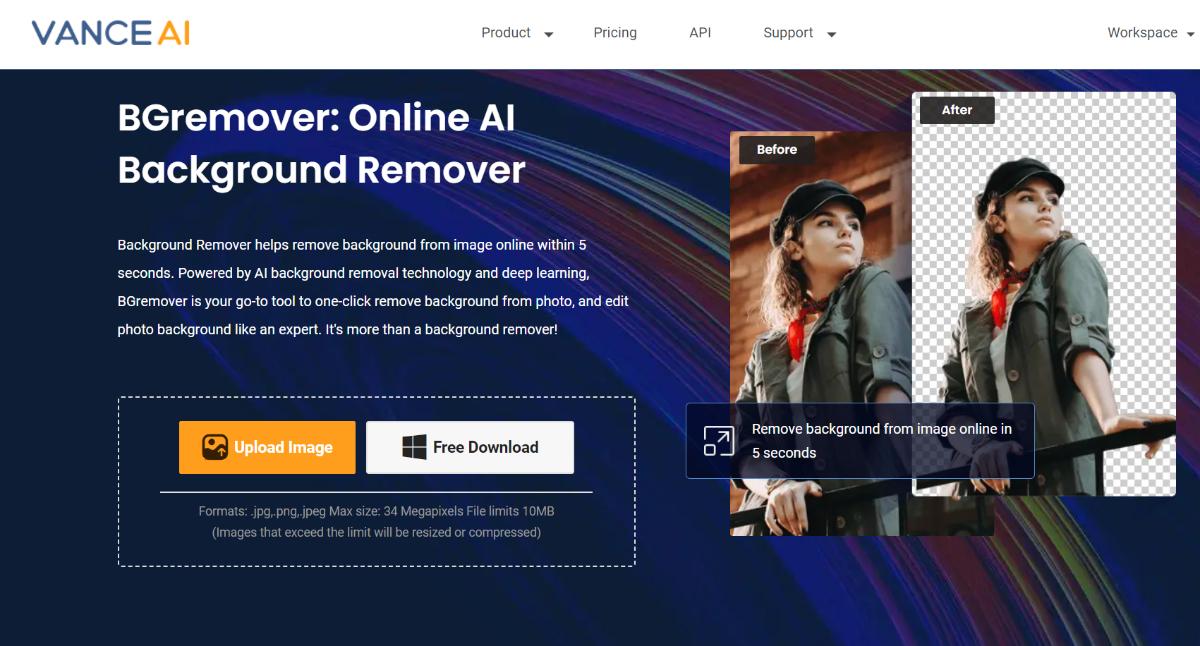 Step 2: When you're inside the Workspace, you can upload your photo and select the option of focusing on the object or person. Click on "Start to Process" to go ahead with the background removal.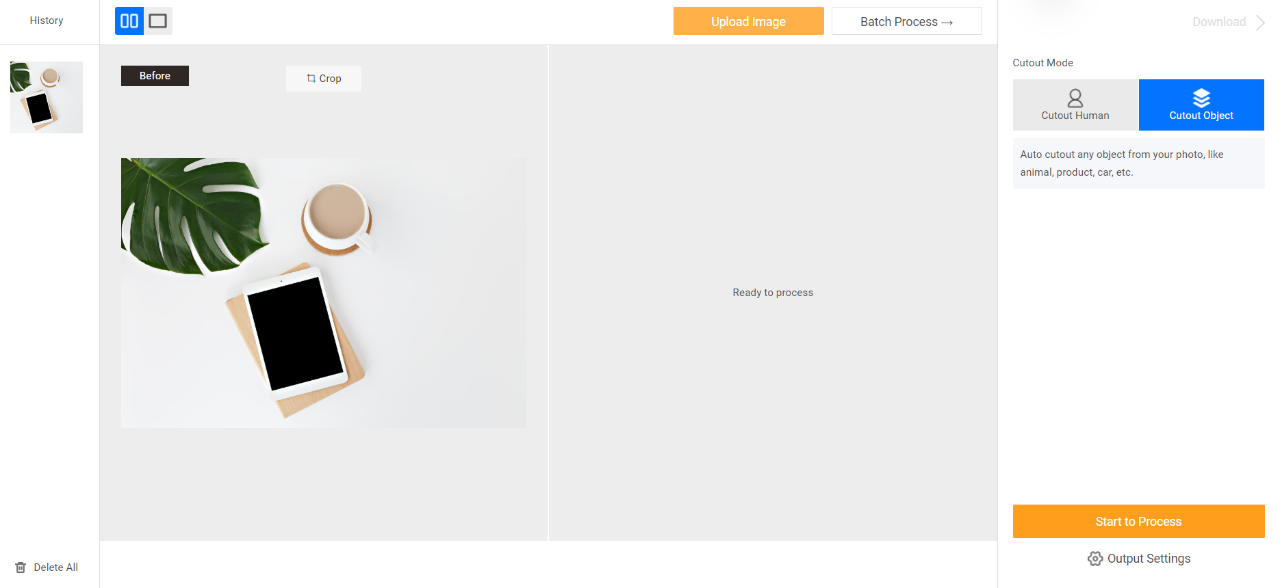 Step 3: Within a few seconds, you should be able to see the final image on the screen.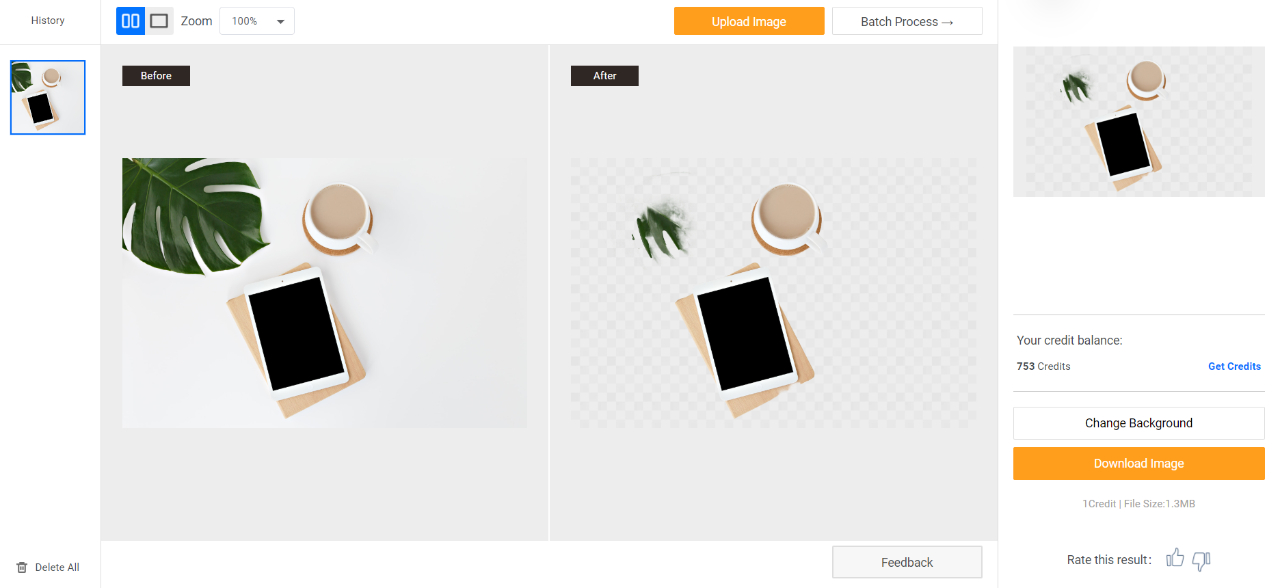 This is where you need to access Background Changer.
Step 4: To access Background Changer, click on the "Change Background" button near the download option. When you get to the editor, you can click on any of the backgrounds given to make background white, remove black background from image or remove color from image. You can also use the brush tool to remove or retain something from the image.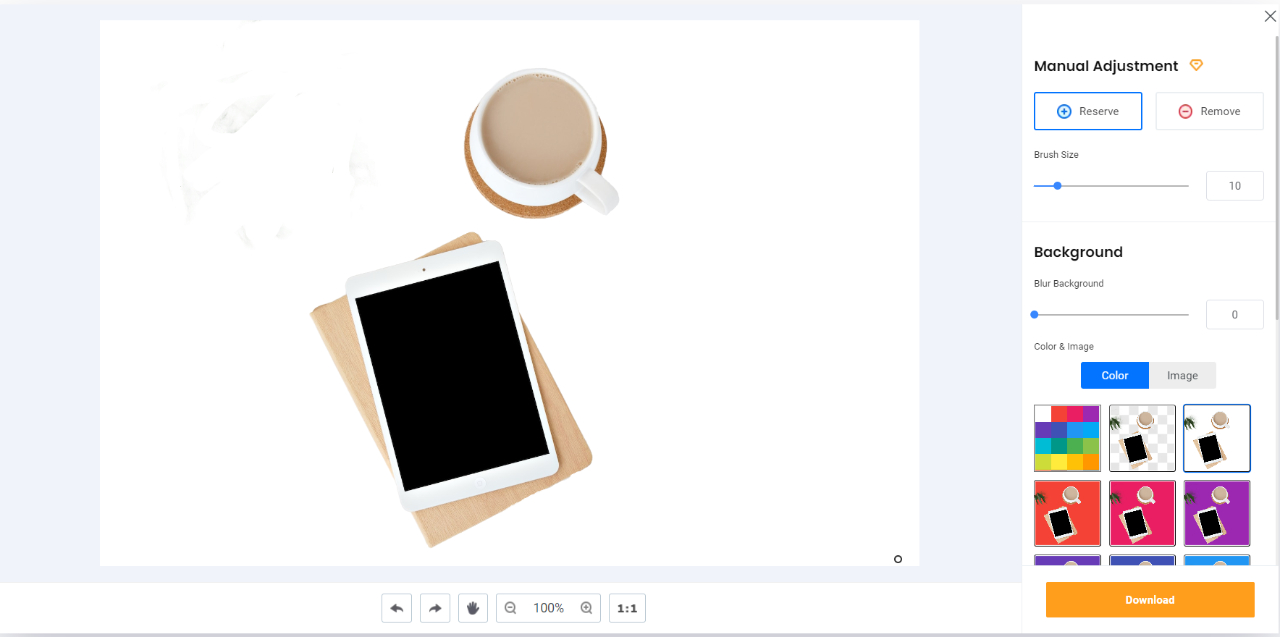 Step 5: Click on the download button to save your work.
BGremover Can Do More Than Change PNG Color
BGremover Offers Manual Brush to Further Clearup Pictures
Before changing the PNG image color, you may want to cleanup pictures. You can use the BGremover brush tools to make your photos cleaner.
After you have processed the image through BGremover, you can access the Background Changer and use the brush tool.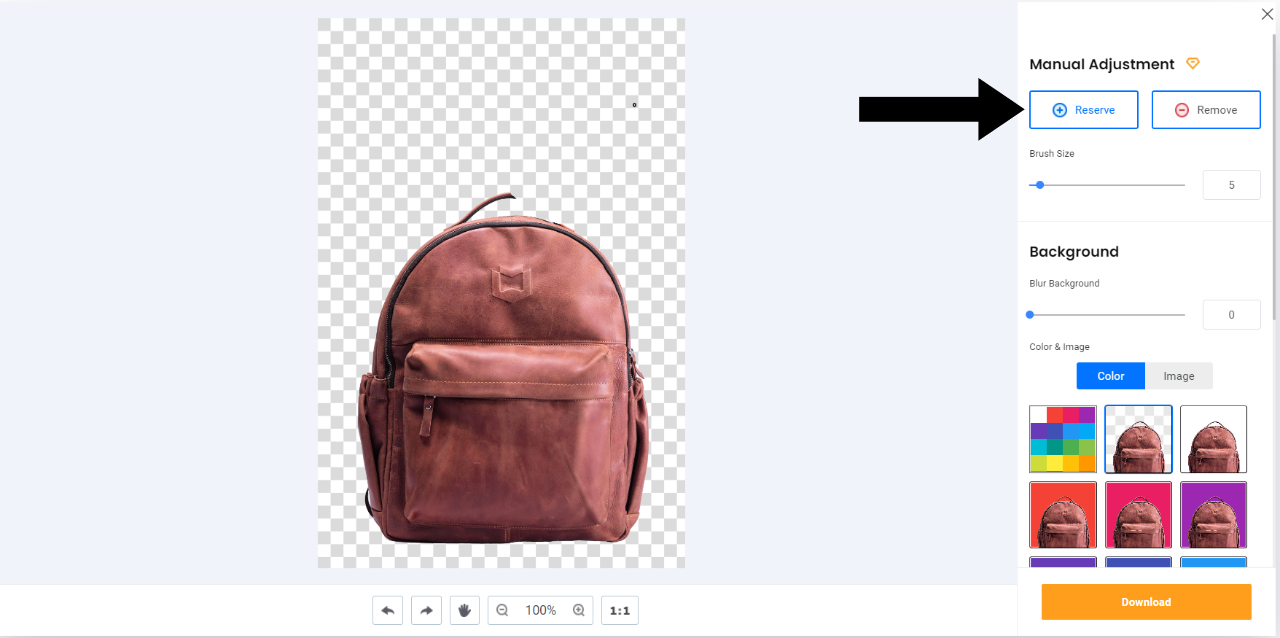 As you can see, the handle of the bag has been further removed by using the brush tool. It is easy to use, as users simply have to drag through the spots that they want removed. If you want to bring something back, you can click on the "Reserve" tab instead and repeat the process.
BGremover and Other PNG Color Changers
| | | | | |
| --- | --- | --- | --- | --- |
| Product | Price | Features | Color Choices | UI Design |
| VanceAI BGremover | $4.95 per month | Excellent | Excellent | Very good |
| Fotor | $3.33 per month | Very good | Excellent | Good |
| Picsart AI | $5 per month | Excellent | Excellent | Good |
| Pixelied | $3.90 per month | Very good | Very good | Excellent |