Remove Background from Signature Online
BGremover is essentially an AI tool to remove background from signature online without any form of downloads. To remove background from image, it adopts deep convolutions neural networks, comprising Artificial intelligence and deep learning frameworks framework algorithms which automatically helps you create signature image with transparent background with maximum efficiency. The tool isn't cluttered as what is obtainable in most online tools you'd find today. It is straightforward and pretty easy to navigate and use. Using BGremover, you also don't have to worry about privacy or the integrity of your signature. Its encryption framework and attention to privacy guarantee that only you can access your signature at any point of processing. With that said, with the following steps, you can easily create signature with transparent background:
Step 1: Upload the image file containing the signature with background to BGremover website.

Step 2: The tool automatically distinguishes the foreground from the background, and remove background from signature image within a few seconds.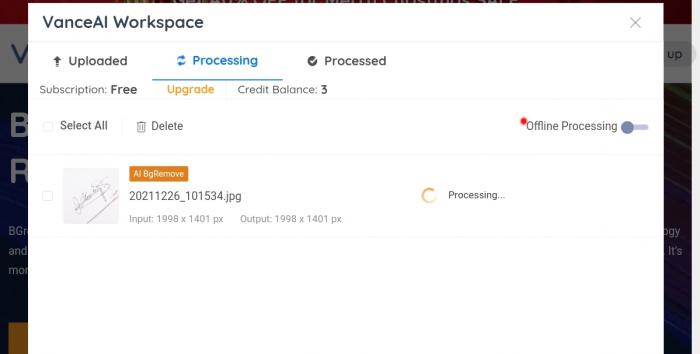 Step 3: Now, you can go on to download your result.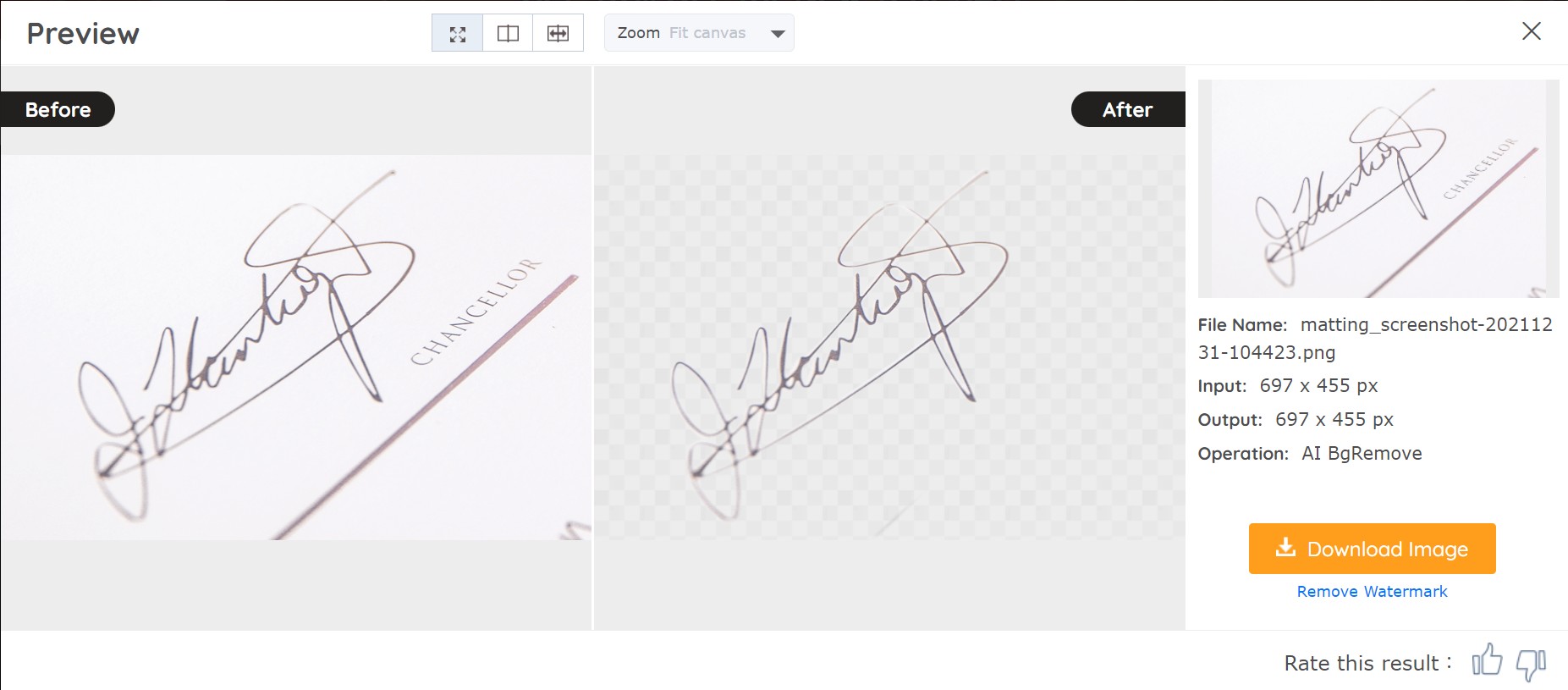 Remove Background from Signature in MS Word
MS Word is often regarded as the best word processing software out there. But do you know you can also use this tool to remove background from signature image? Of course, yes. And it's safe to assume almost everyone has this tool working offline, making it accessible and suitable for a vast range of use cases. With no further ado, you can create remove signature background using MS word by following a few sets of steps highlighted below.
Step 1: Insert the image containing your signature. To do this, launch MS word, select the INSERT tab and choose pictures to pick the image containing your signature.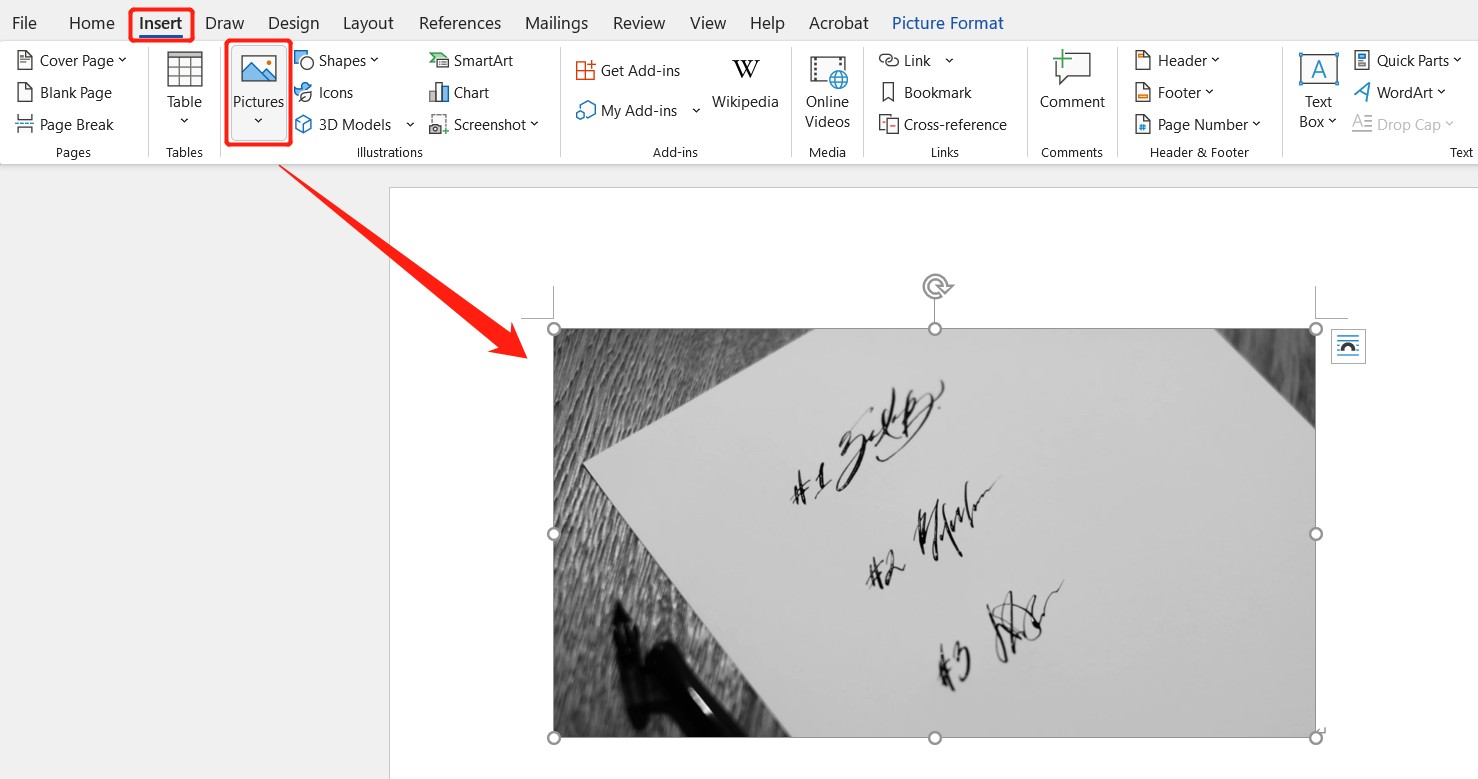 Step 2: Double click the picture, and it will show you the "Picture Format" menu box appearing on the right side, then choose "Remove Backgrounds."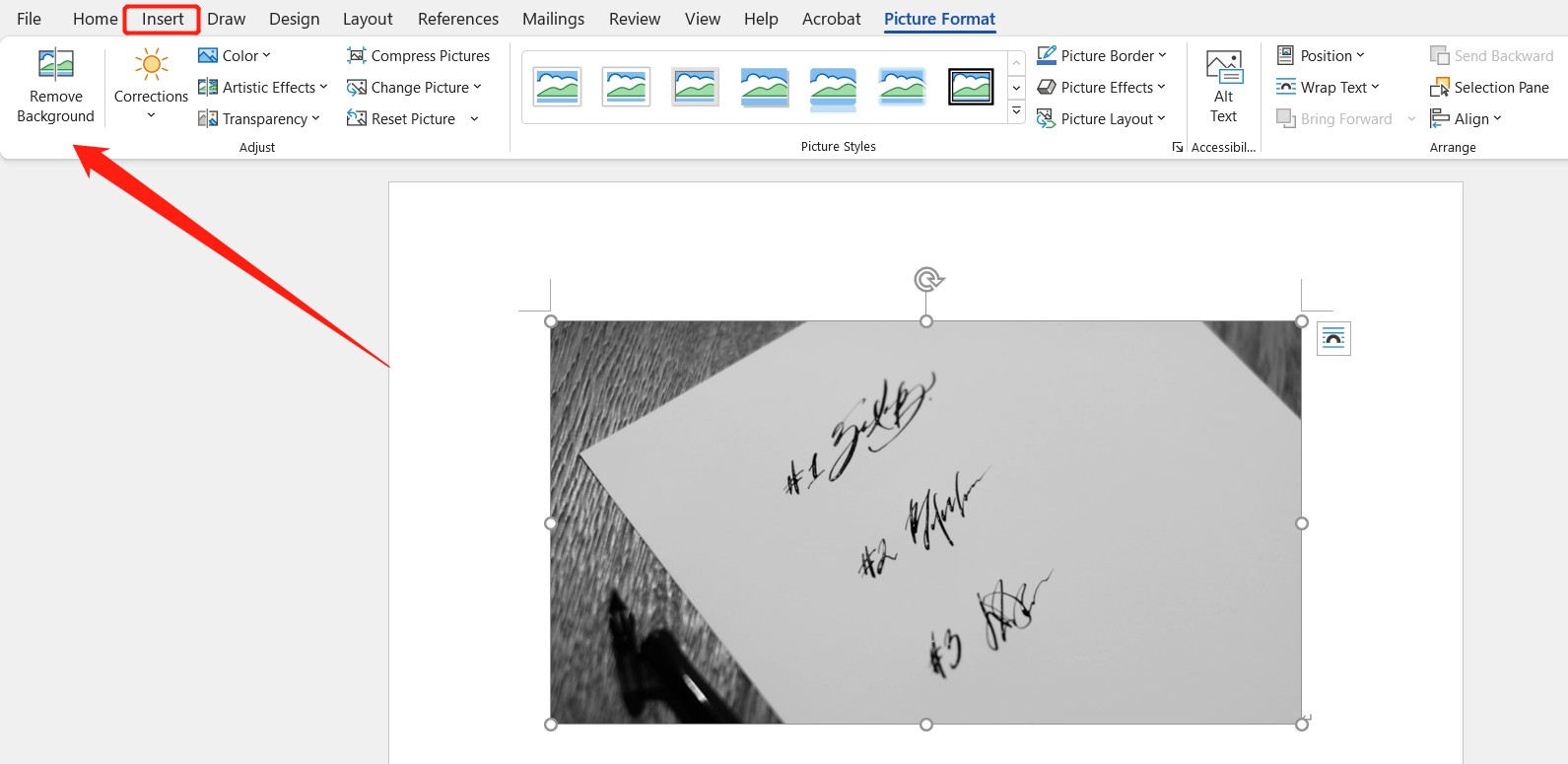 Step 3: Select Mark Areas to Keep or Mark Areas to Remove to outline areas to keep or remove. Repeat as needed. And here you can just do the same steps as I mark below. Then click "Keep changes" if the background has been satisfactorily selected.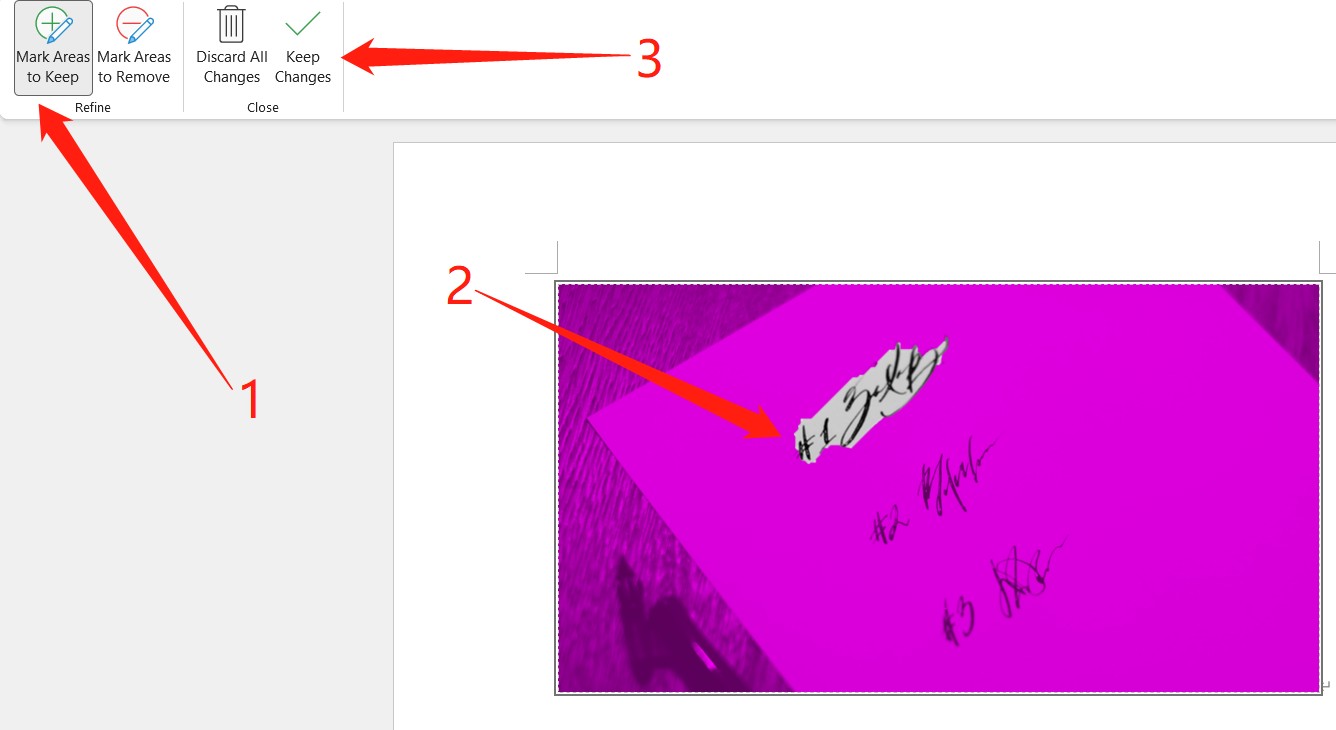 Performance of BGremover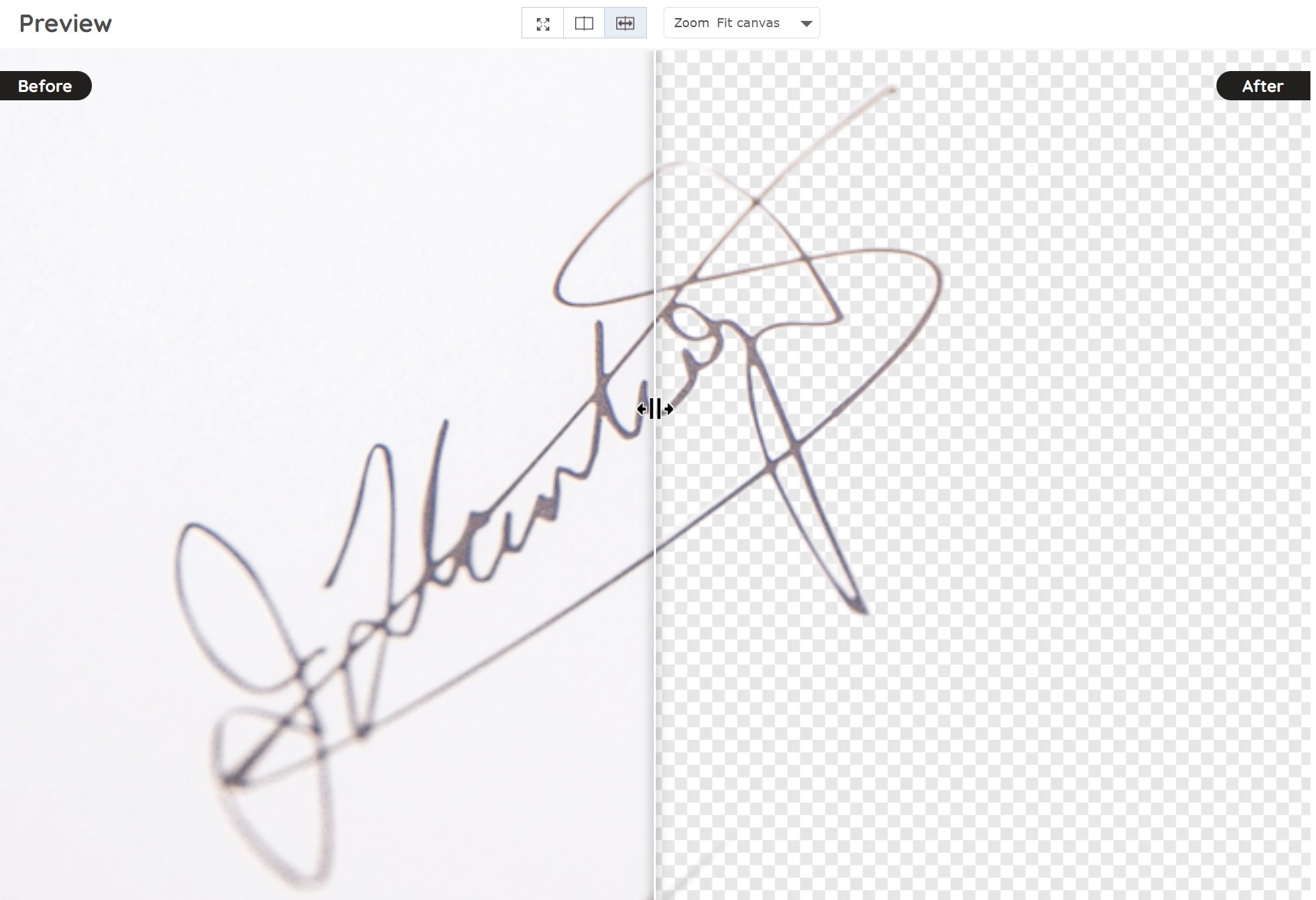 From the processes involved in MS word, one could infer that is pretty daunting and demanding. Why go through such an arduous task when you can achieve more with less effort on BGremover.VanceAI.com. Judging by the images above, it's evident that BGremover offers some of the best quality tools to create a signature with transparent background. It retained the signature quality with and without background with minimal effort.
Final Thoughts
The world is fast experiencing a digital revolution, where almost every one of our interactions, business and personal, are going digital. And course, signatures, and documents are parts of this revolution. Using any of the tools and processes – depending on your convenience, expertise, and time availability – you can access the best functionality to remove background from signature seamlessly.
FAQs
How to remove background from a PDF signature?
If your signature is in a pdf format and you are looking to create a transparent background from it, all you have to do is convert pdf to your preferred image formats, such as JPG, PNG, JPEG, among others. After converting, you can then go on to use any of the tools and processes highlighted in this guide to remove background online or offline from the signature. PNG Maker from BGremover automatically converts a signature in a pdf format to one in PNG after the process of background removal is done.
Also read: 10 Best Tools to Make Background Transparent Free 2022.
Do you find this post helpful?
Yes
No