3 Best Methods to Remove Background Color
Method 1: Visit BGremover Product Page
If you don't have a good laptop or computer or you just want to remove background color from image ASAP without having to use any additional software, then there are certain websites that will do the job for you! Using these websites does not require any extra knowledge and is usually very straightforward to use. A good website for removing background color is BGremover.
Step 1: Go to Bgremover website using the link above and click the "Upload Image" button.

Step 2: Click here and upload an image from your computer (you can also drag and drop an image in this area) and select the Recognition Accuracy you want. Then click "Start to Process" to remove background from image.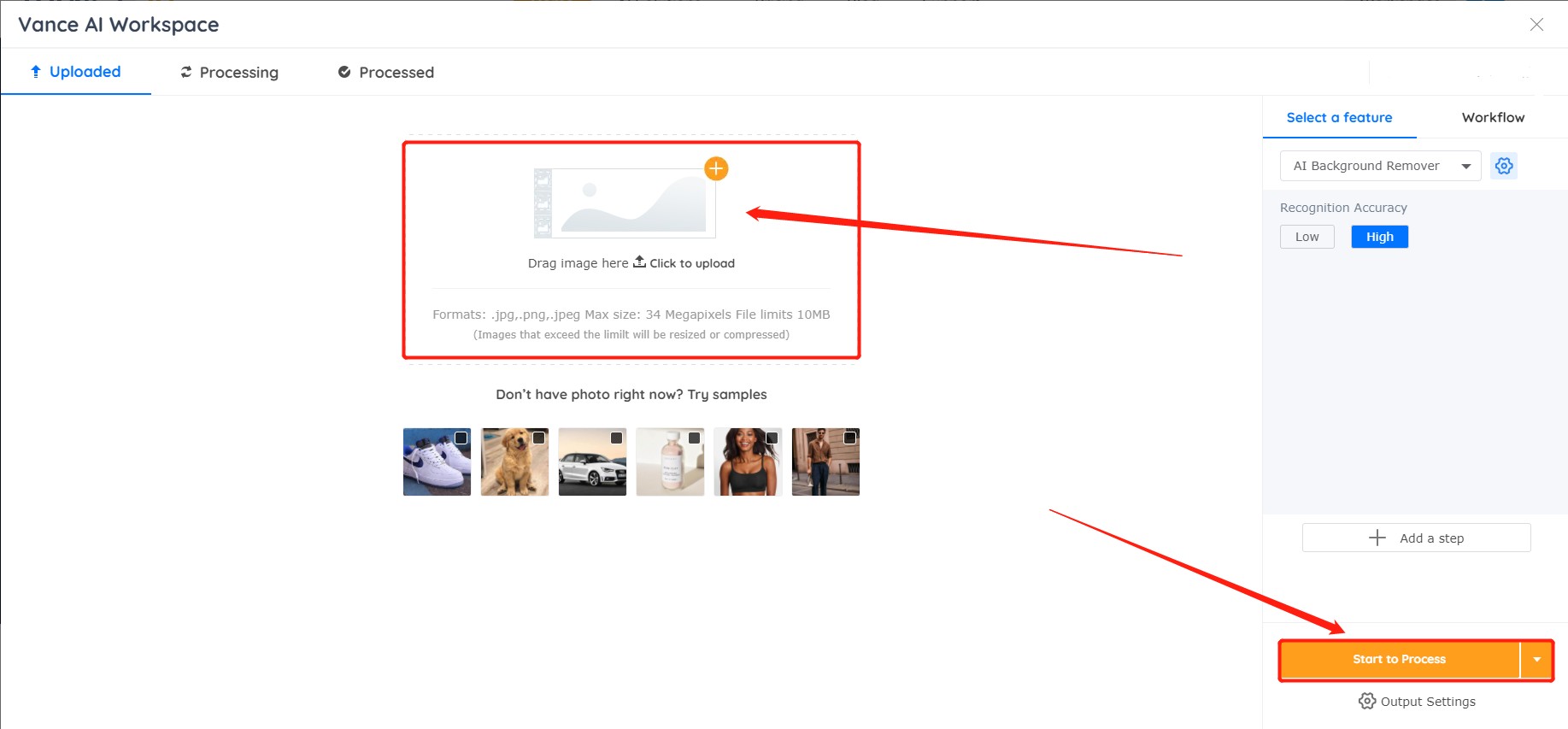 Step 3: It will show you a preview of your image before and after background removal! Click 'Download Image' to download. (Note that you will need to sign up to be able to do so)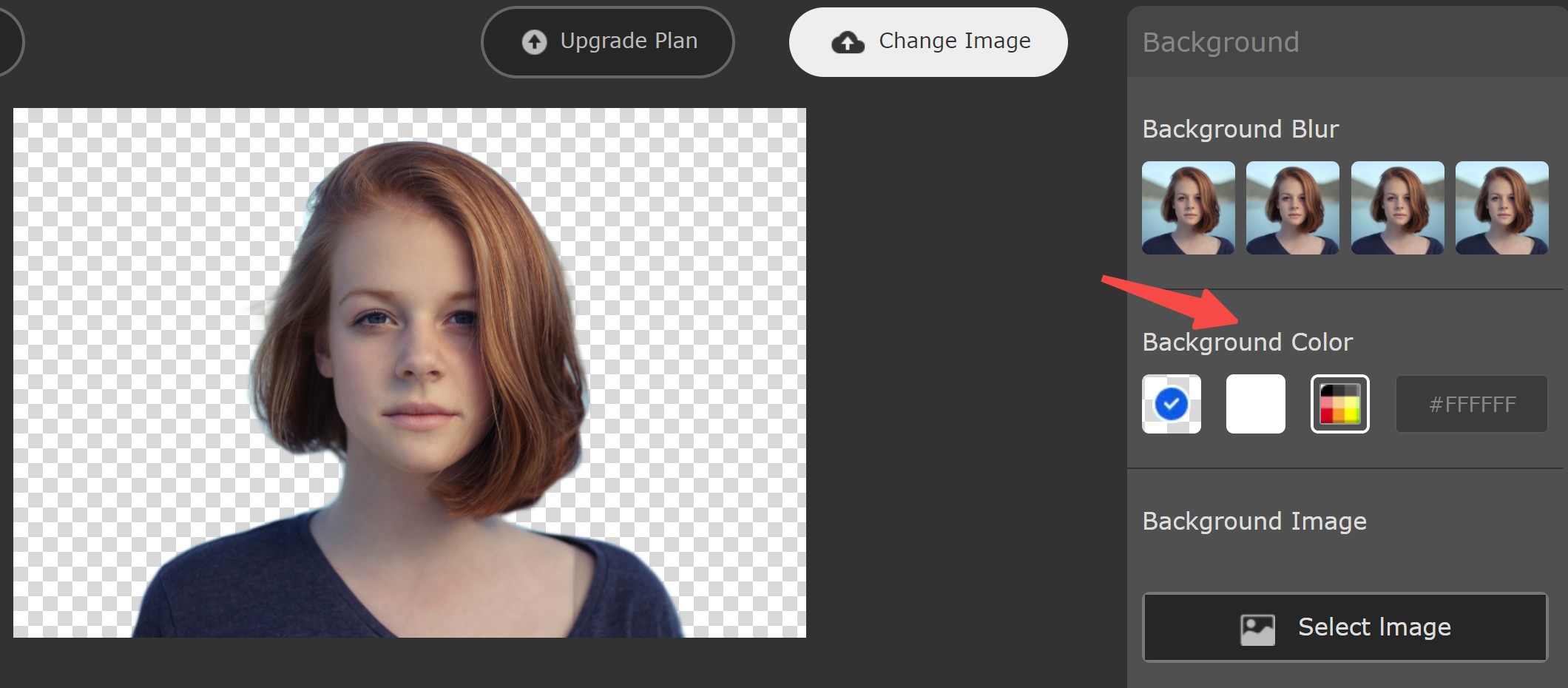 Method 2: Visit BGremover Workspace
Soemtimes we may be tired of continuously open product page and need a more quicker way to process images for optimizing workflow, then BGremover Workspace is here for you. Click its link and put images through it then you could get output you want in instant.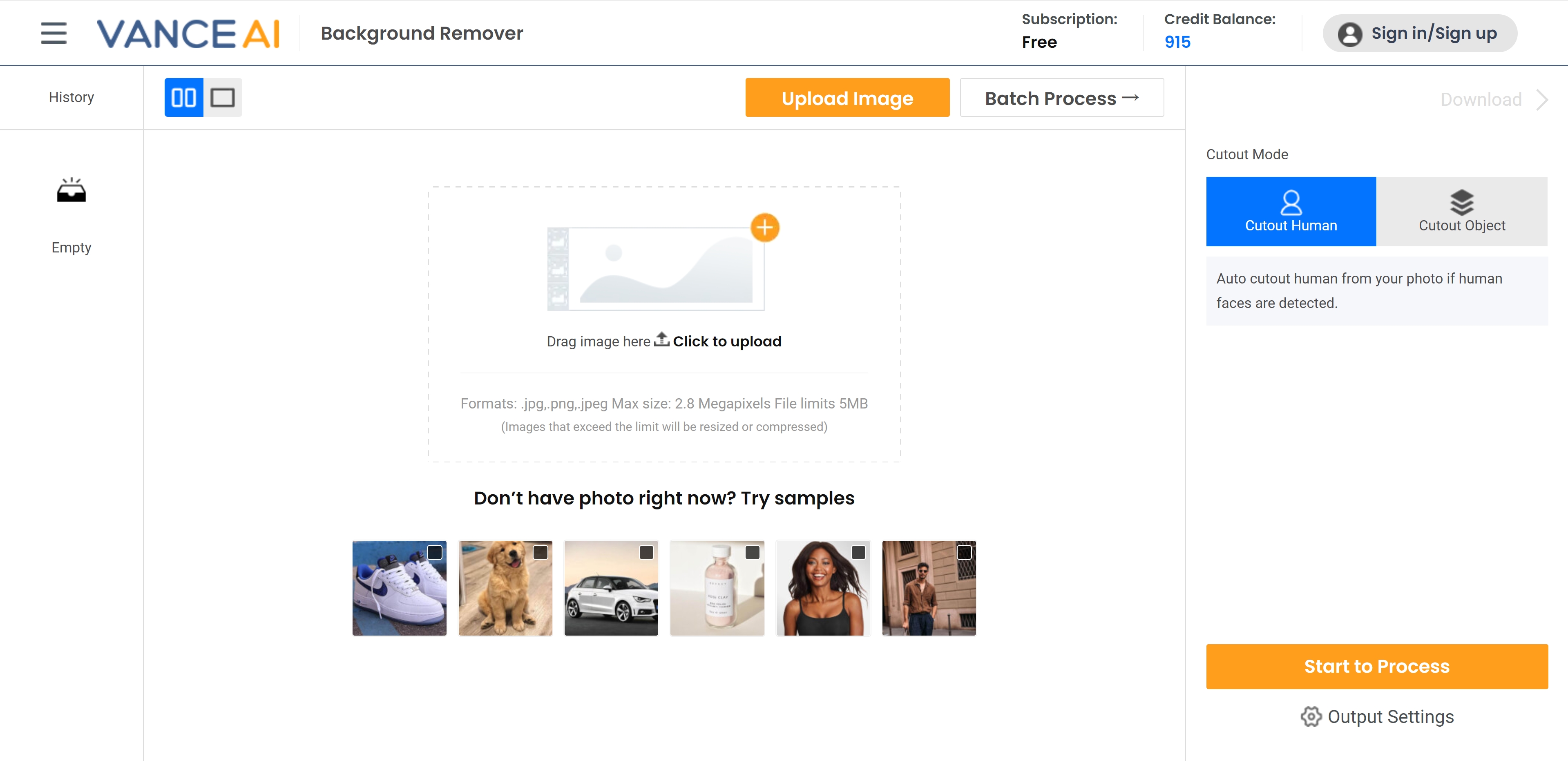 How to remove background color in Adobe Photoshop
If you want to be more precise and professional about removing the background from your image and have a decent computer then you can try doing it in Adobe Photoshop. This is a really good option if you want to take your time and work on the image yourself. Although it may be more time-consuming than the others.
The Pencil Tool and Backdrop Eraser are two tools in Photoshop that may be used to erase the background. Then, using Select and Mask, you may fine-tune your selection. However, this method can be quite difficult for beginners. This article will tell you an easier way on how to remove background color in Photoshop.
Step 1:Open Photoshop and click File > Open > and open your picture.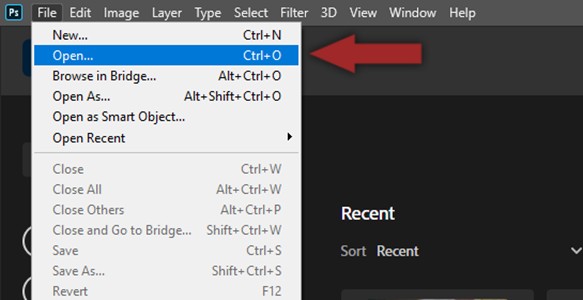 Step 2: Click the lock icon on the image layer on the bottom right side of the screen to be able to edit it. It should go From Background to Layer 0.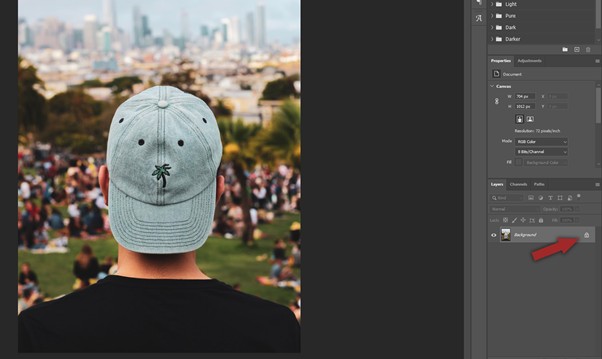 Step 3: Select the Magic Wand tool from the toolbar.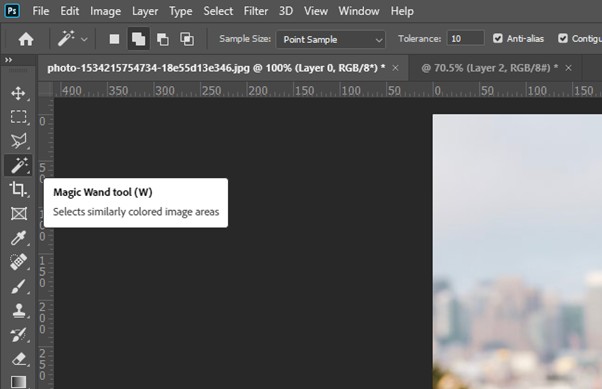 Step 4: Click on "Select Subject". Your entire subject should get selected!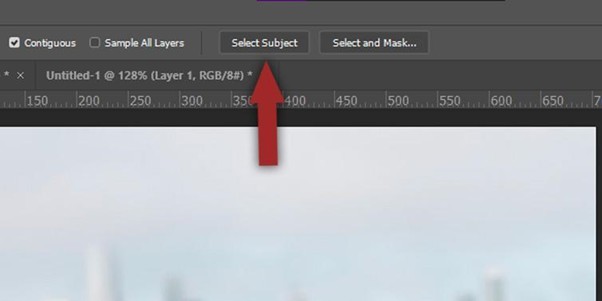 Step 5: Click on Select > Inverse. This is a very key step for you to remove background color from image, and it also determines the final look of your picture.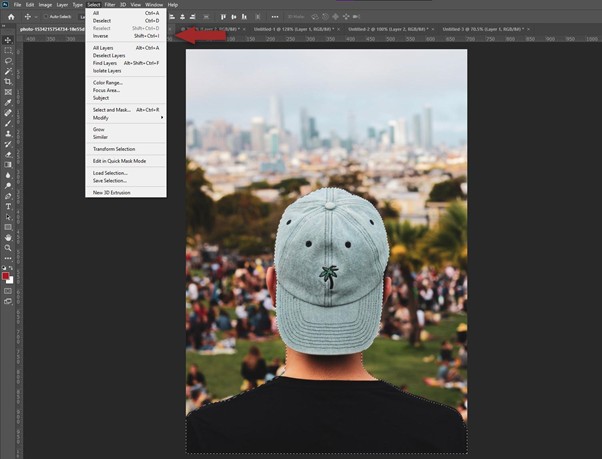 Step 6: Press 'Delete' on your keyboard and your background should be removed!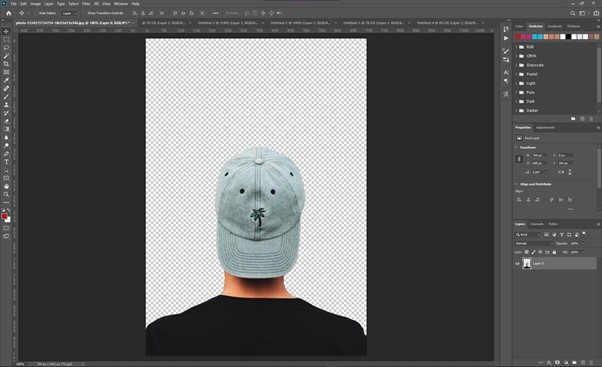 Note: If you want to manually select the subject, you can do so by using 'Lasso Tool' from the toolbar!
Part 3: How to remove background color in Word
Microsoft Word is the greatest solution if you're seeking a simple approach to remove the background from images that are also offline. If you don't want to sign up for a website and/or your computer does not support Adobe Photoshop, you can remove the background color in word. It is one of the more reliable options because it doesn't require any extra steps like signing up and more importantly, nowadays, Microsoft Office is present in almost all computers and laptops. However, Microsoft Word should not be used just for these reasons. Furthermore, because the marking tools are a little difficult to use, you may not get the greatest results on your first try. If you still want to try Microsoft word to help you remove background color from your image then, these are the steps to follow:
Step 1: Open Microsoft Word and click on 'New'. After doing so, click on 'blank document' which will create a blank document for you.
Step 2: Click on the Insert tab and click 'Pictures'. And locate the image on your computer.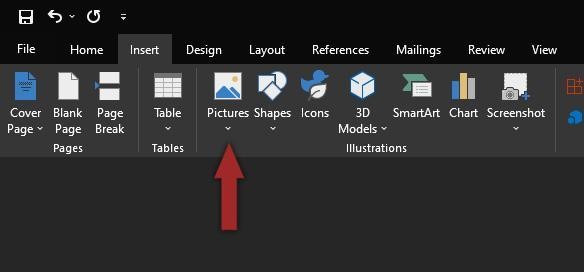 Step 3: Click on 'Remove Background' as you can see from image above.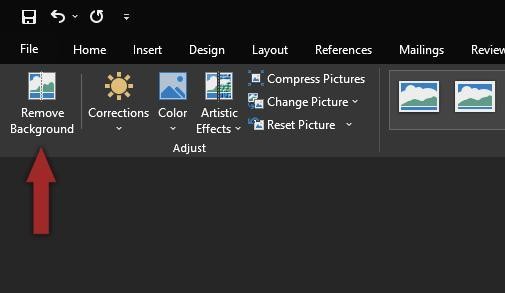 Step 4: The background will be selected and highlighted. If you want to change the selection you can do so by the 'Mark Areas to Keep' and 'Mark Areas to Remove Buttons'.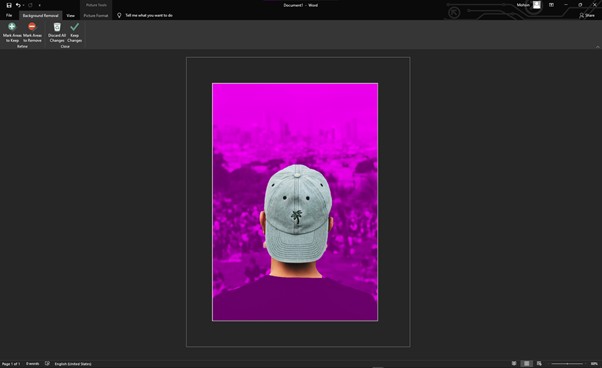 Step 5: Once you are happy with the selection, click on 'Keep Changes' which is shown by the red arrow.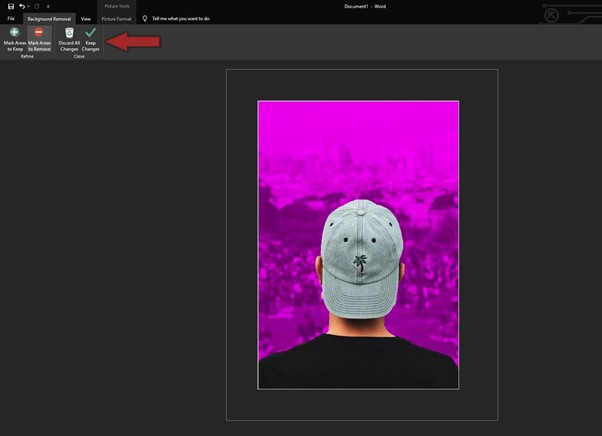 Congratulations, you have successfully removed the Background using Word!
Final Thoughts
After reading this article, you know about all the three methods that can help you remove the background color from your image. These three methods mentioned above are viable and have their unique required skills. And they all give different qualities of background color removal, so according to your need and the complexity of the image, you can opt for any of these methods and get the desired result. However, it is essential to make sure that you only go for one of these three methods and do not opt for any other method because these are the best methods. See, many tools help you remove background color from image, give it a try, and choose one that will only make your life easier. Besides, you can try VanceAI image enhancer for image upsacle or image sharpeness to make you photo better.
FAQs
How can I change the background of a photo?
From all the available methods, if you want the best result with the least amount of time, then the best option to choose is AI background remover! It requires the least amount of time and almost no skill to remove background color from images. So if you are a complete beginner, BGremover is the best for you!
How can I enhance
photo quality after removing background color from image?

After succefully removing background color from image, you might as well choose AI photo enhancer to enhance your photo. It will not waste you a lot of time as it is a magic tool committed to rejuvenating full details of your image and improving image quality. It is an easy-to-use tool with one-click feature even if you are a newbie.

Also read: How to Isolate an Image in Photoshop and Its Best Alternative.
Do you find this post helpful?
Yes
No